While the Denver real estate market has been gaining steam (inventory of single-family homes down 31 percent from one year ago), The Denver 100 has been evaluating the performance of its highly trained agents, and has found that they outperform the average by a margin of around five to one, according to statistics from Metrolist Inc.
The Denver 100 brokers are on track to sell an average of 21 homes apiece for 2012 — around five times the market average. The Denver 100 is a full-service, high-touch real estate firm serving the seven-county Denver area, recruiting exceptionally experienced professionals with a high degree of marketing and negotiating expertise.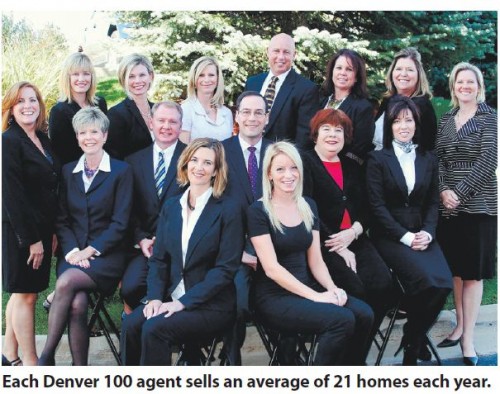 The Denver 100 agents are also well ahead of average in terms of sale price — averaging $405,344 against a market average of $285,692; close to 30 percent more per sale. As the market gained strength, the average price of properties closed by Denver 100 agents this year increased 17 percent from 2011. Meanwhile, The Denver 100 agents are posting an average sale 97.95 percent of the average listing price — 1.95 percent better than the area's sale-to-list average of around 96 percent reported by Metrolist.
"The marketplace is up almost 10 percent over last year, but our brokers are up around 49 percent over last year," said Jack O'Connor, broker-owner of The Denver 100. "What we're seeing in those numbers is the experience and knowledge of our brokers working in a new kind of company and how that serves to attract new clientele."
O'Connor noted that The Denver 100 offers extensive broker coaching and training to maximize each person's personal production, creating a "custom production pathway" that yields better customer service for clients. He added that The Denver 100's extensive use of electronic marketing, including the use of social media sites, is particularly effective. The company offers a YouTube page that gives presentations on new listings, including a 'neighborhood of the week." Agents provide a blog of market statistics each month via their company website at Den100.com that customers can search for listings hitting the market in real time.
The Denver 100 has a Facebook page that provides housing tips, consumer insights, open houses and other information. "All of those products are increasing the search engine optimization for our listings," O'Connor added. "Customers also benefit from our strict adherence to the Code of Ethics by the National Association of Realtors, requiring us to promote and protect our clients' interest."
The average Denver 100 agent has over 20 years experience. Offices are at 385 Inverness Parkway near Park Meadows Shopping Center. To receive O'Connor's monthly market report, "So How's The Market?," contact him at 303-880-8561 or visit Den100.com.