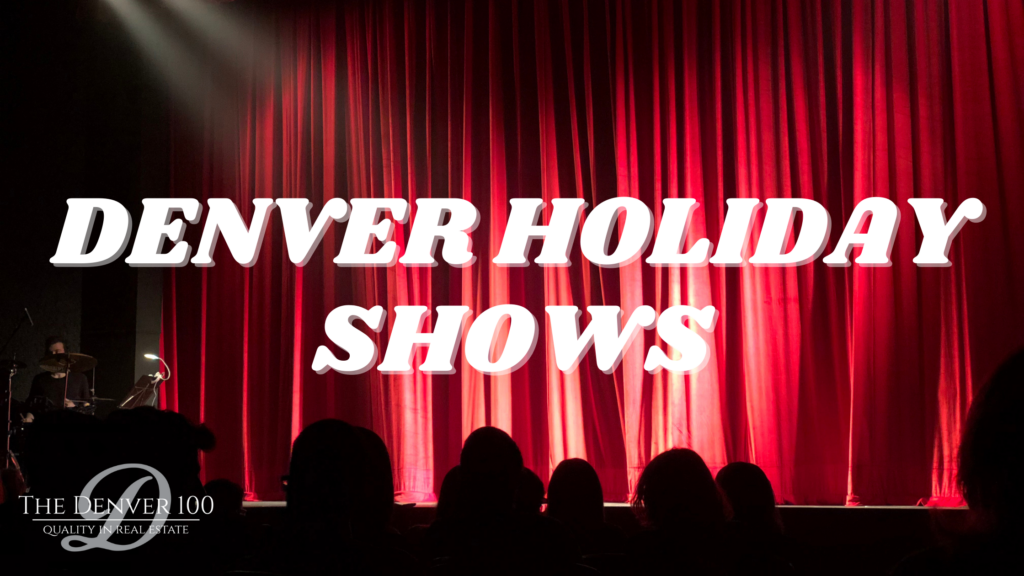 After so many shows got canceled last year, we are all looking forward to bringing in some holiday spirit and seeing a show! We found the best shows in town, so dress up, wear a warm jacket, and have fun!
WHEN: Nov 11–Dec. 23, 2021 (on select days)
WHERE: Colorado Railroad Museum
The story of The Polar ExpressTM is theatrically re-created and combined with a magical train ride at the Colorado Railroad Museum. Children get to meet Santa and experience all the sights and sounds of this classic tale as if happening all around them. This year, a whole host of carefully crafted updates have been made in order to ensure the health and safety of guests, cast and crew, so put on your pajamas and your most fashionable mask and bring the family to enjoy sharing hot cocoa and cookies together as the "Hot, Hot, Hot—Chocolate" song and dance unfolds before your eyes.
WHEN: Nov. 18, 2021-Jan. 2, 2022
WHERE: Heritage Lakewood Belmar Park
An over-the-top, outdoor/indoor extravaganza as big as the season it celebrates! Leave your worries behind and immerse yourself in Denver Center for the Performing Arts' (DCPA's) biggest holiday experience ever! Journey through artist Lonnie Hanzon's fantastical wonderland of lights, dazzling decorations, music and memorabilia as you explore mesmerizing yuletide scenes spread across a six-acre landscape. Most importantly, Camp Christmas is an opportunity to rediscover (and reimagine!) the holiday spirit and connect with people you love.
WHEN: Nov. 19-Dec. 26, 2021
WHERE: Denver Center for the Performing Arts' Wolf Theatre
Essential to the holiday season in Denver, "A Christmas Carol" is a joyous and opulent musical adaptation that traces money-hoarding curmudgeon Ebenezer Scrooge's triumphant overnight journey to redemption.
WHEN: Nov. 26-Dec. 12, 2021
WHERE: Red Rocks Amphitheatre
Enjoy a one-of-a-kind drive-in movie experience at the iconic Red Rocks Park & Amphitheatre with a new lineup of films to celebrate the holidays such as "Planes, Trains and Automobiles," "Home Alone," "National Lampoon's Christmas Vacation," "Scrooged," and more.
WHEN: Nov. 27-Dec. 24, 2021
WHERE: Ellie Caulkins Opera House
The beloved holiday favorite returns in a dazzling production like no one's ever seen, featuring all-new sets and costumes created especially for Colorado Ballet. A sellout every year, this magical tale of Clara, the Nutcracker and the Mouse King is going to be dreamier than ever.
WHEN: Dec. 31, 2021; 6:30 p.m.
WHERE: Boettcher Concert Hall in the Denver Performing Arts Complex
A Colorado cultural tradition returns featuring your symphony waltzing with you into 2022! Start your celebration in style with the Colorado Symphony's presentation of "A Night in Vienna," a rousing selection of polkas, waltzes and marches. The festive evening is the perfect sendoff to 2021 and a can't-miss holiday mainstay conducted by your very own Christopher Dragon!
WHEN: Dec. 22 & 23, 2021
WHERE: Boettcher Concert Hall in the Denver Performing Arts Complex
The Muppets perform the classic Dickens holiday tale, with Kermit the Frog playing Bob Cratchit, the put-upon clerk of stingy Ebenezer Scrooge (Michael Caine). Other Muppets — Miss Piggy, Gonzo, Fozzie Bear, and Sam the Eagle — weave in and out of the story, while Scrooge receives visits from spirits of three Christmases — past, present, and future. They show him the error of his self-serving ways, but the miserable old man seems to be past any hope of redemption and happiness. The Colorado Symphony will be performing every note from the original full film score while the movie is simultaneously projected on screens.
WHEN: Dec. 18 & 19, 2021
WHERE: Boettcher Concert Hall in the Denver Performing Arts Complex
In this heartwarming movie, Buddy is accidentally transported to the North Pole as a toddler and raised to adulthood among Santa's elves. Unable to shake the feeling that he doesn't fit in, the adult Buddy travels to New York, in full elf uniform, in search of his real father. This holiday season relive this holiday classic on a giant screen as every note of John Debney's wonderful score is played live to movie. This performance will be conducted by the film's composer himself, John Debney!
WHEN: Dec. 16, 2021; 7:30 p.m.
WHERE: Boettcher Concert Hall in the Denver Performing Arts Complex
With its inspired use of Native American musical rhythms and African-American spiritual influences, Dvořák's beloved "New World Symphony" heralded a new dawn for 20th-century American music. Virtuosic violinist Karen Gomyo joins guest conductor Jaime Martín to invigorate Tchaikovsky's lush Violin Concerto — one of the preeminent Romantic works ever written for the instrument — filled with lyrical melodies suggestive of the Slavic and Russian folksongs that so often found their way into Tchaikovsky's ballets. Kodály's Dances of Galánta draws on the Hungarian folk elements so prevalent during the composer's upbringing, exemplifying the bond between cultural musical sources and formal classical composition, and showing why it matters so much in today's world.
The information was obtained from https://www.denver.org/things-to-do/fall-winter/holiday-performing-arts/