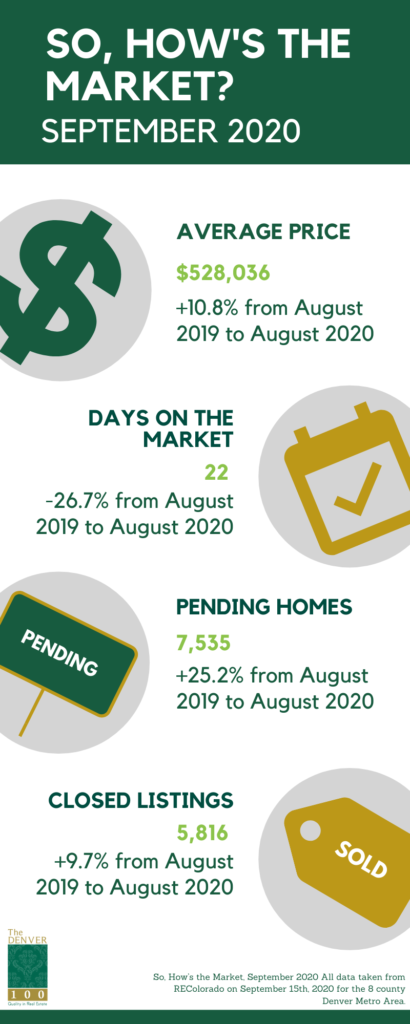 Low Inventory, Low Interest Rates Creates Real Estate Excitement 
Four Market Trends 
• Listing Inventory is 39.2% lower today than 12 months ago. Normally we would see an increase of inventory as the housing market heads through the summer. A typical number is 6% growth in inventory from July to September 
• The number of properties sold YTD is 1.5% less than this time in 2019, even with the Pandemic time where sold data reduced dramatically.
• The average list price in August 2020 has increased 10.8% over August 2019. This pace of appreciation is moving at unsustainable levels and will continue appreciate at lower levels as we approach the winter season. 
• The number of homes pending has increased four months in a row over previous year sales and are 25.2% higher than August 2019. Historically low interest rates are driving the Denver real estate market and there appears to be a continuing trend of low inventory and low rates! 
Why Inventory is Low! 
• Many homeowners have obtained 3.5% or lower interest rates and are comfortable with their repayments, hence, less willing to re-enter the market. 
• Financing is a key component in buying power. With low rates below 3% for conforming loans, buyers will continue to enter the market. 
• The appreciation of prices over the last year has homeowners holding off from selling as they may not be able to replace their existing home with what they want.
The number of sales for 2020 will match 2019 and may exceed sales in some markets. That is an amazing statistic considering COVID-19 restrictions and job unemployment rates.