Highlights
-October brought continued cooling for the Denver Metro housing market as both buyers and sellers were less active. As a result, we saw double-digit decreases in both closed and pending listings when compared to last year. These metrics also saw month-over-month declines as we moved into the fall months.
-The luxury market, defined as homes priced above $1 million, saw metrics similar to the overall market with a 16% increase in new listings and 22% fewer closings. Homes in this price range are staying on the market a median of 20 days before moving to Pending. 
-Median closed prices have decreased 8.5% since their peak in April when homes were closing a median of 6% above the original list price. Buyers have found themselves with more negotiating power, and in October, homes closed at a median of 2.9% below the original list price. 
-Navigating a market that is shifting quickly can present challenges for buyers, sellers, and renters. With mortgage rates more than doubling since the start of the year, understanding individual situations and the local market is the key for consumers to accomplish their goals.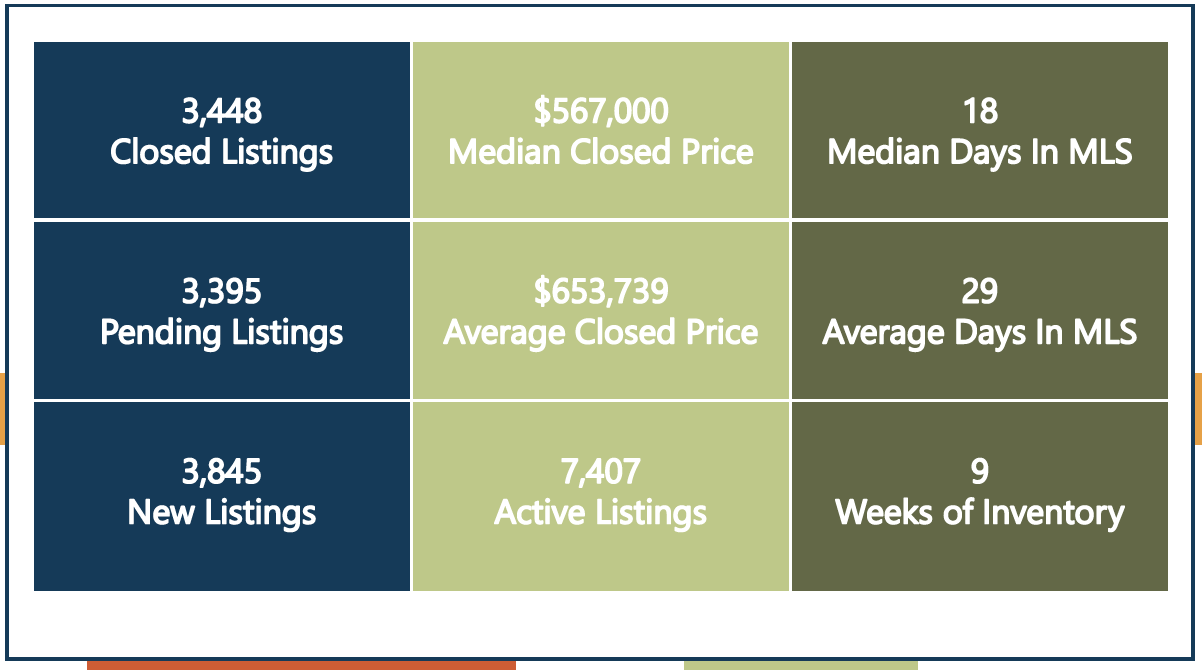 Closed Listings
The market continues to slow amid rising interest rates. In October, 3,448 listings closed, down 37% from last year and the lowest number of closings we've seen in the month of October since 2011. Compared to last month, the market experienced a 20 percent decrease in sales.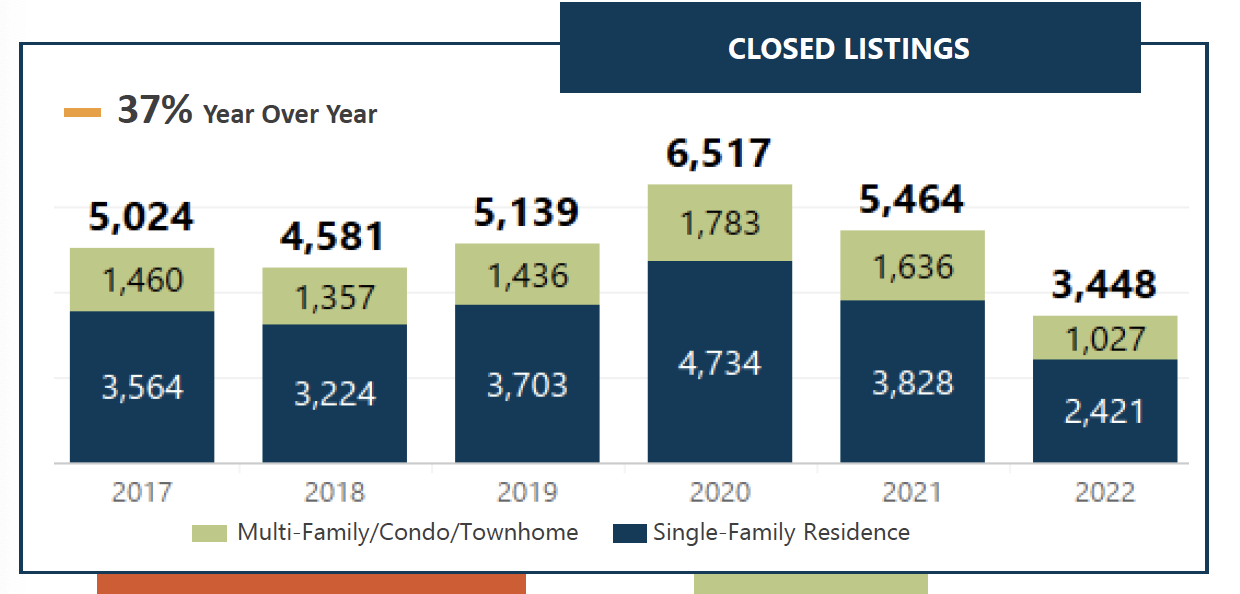 Pending Listings
Demand for homes continued to pull back both year over year and month over month. The number of properties that moved to Pending status was down 39% from October 2021 and decreased 4% from September.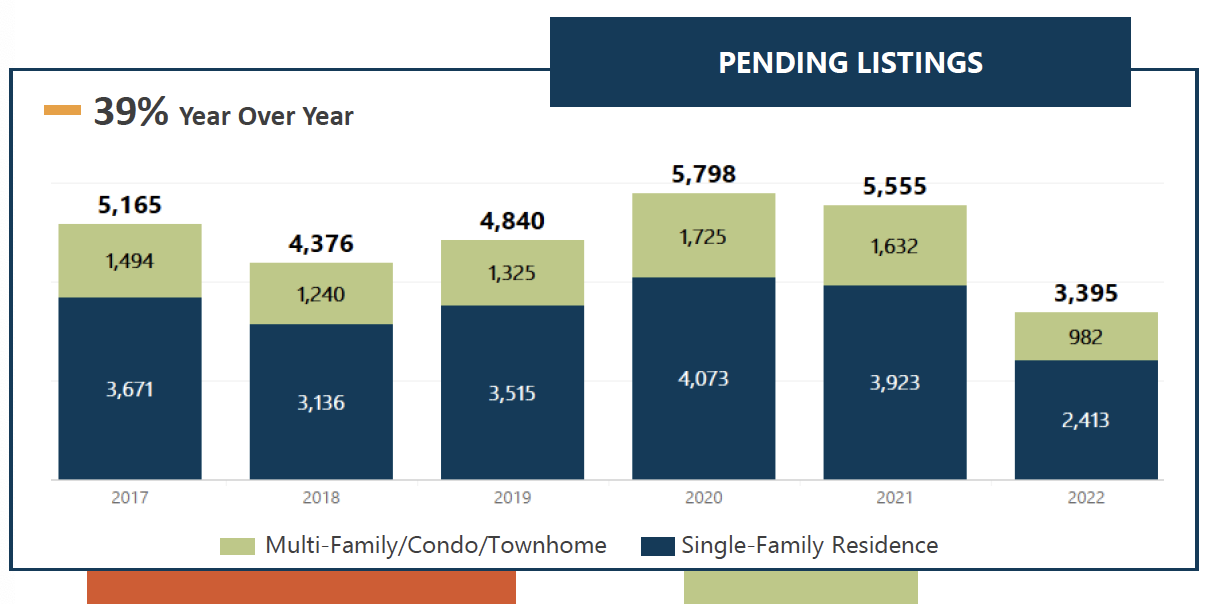 Closed Prices
As compared to previous years, median home prices remain higher; however, month over month, prices have been moderating. The median closed price for a single-family home is now 8.5% lower than the peak we saw in April of this year. Lower closing prices are due, in part, to the willingness of sellers to negotiate with a decreasing pool of possible buyers. When comparing median closed price to median original list price, the median closed price was 2.9% lower in October. 

New Listings
The number of new listings sellers brought to the market in October is 28% lower than last year and the lowest for any October since 2008. The number of new listings has decreased month over month since the peak we saw in in June. 

Days in MLS
Homes are staying on the market more than three times longer than they did last year at this time. With more inventory and less competition, buyers are taking more time to write contracts. From a month-to-month perspective, Median Days in MLS ticked up by one day.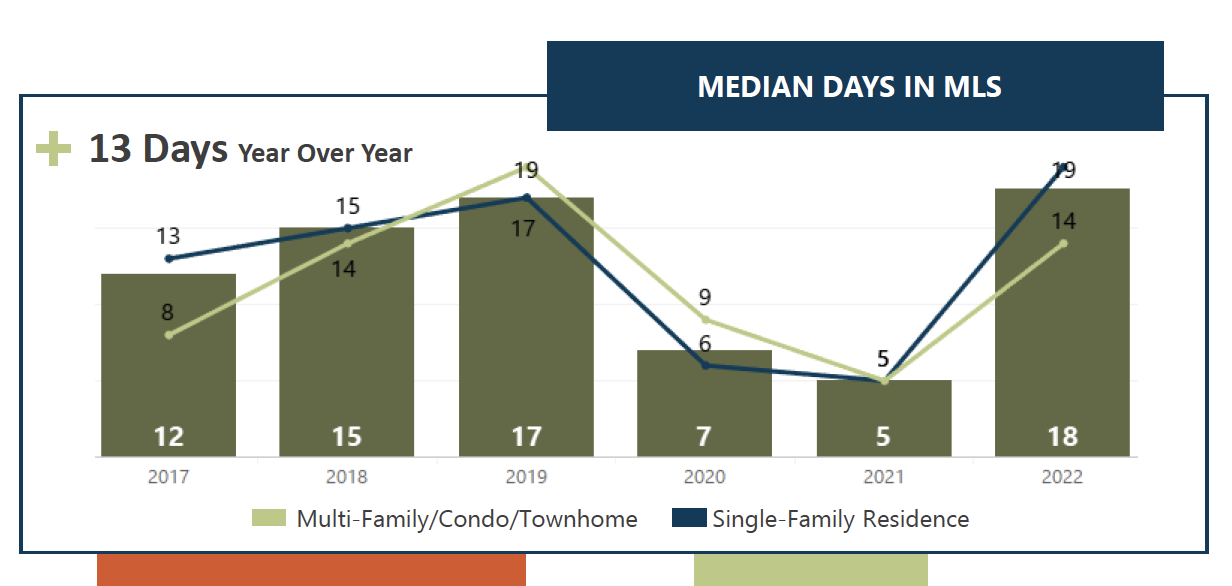 Active Listings
At the end of October, there were 7,407 homes actively available for sale in the REcolorado MLS system, more than two times as many as we had this time last year. At the current rate of sales, the Denver Metro market has 9 weeks of inventory. In October, the Denver market saw more than $29.9 billion in sales.