2020 Third Quarter Real Estate Review
The first three quarters of 2020 real estate experienced a staggering increase of sales coming out of the "shut down period of March through May 8th".  The market was abnormally brisk considering the pandemic, due to low inventory and low interest rates. The days of bidding wars, prices rising and inventory at historical lows have continued through 2020 and appears to be continuing through the fall and winter months ahead.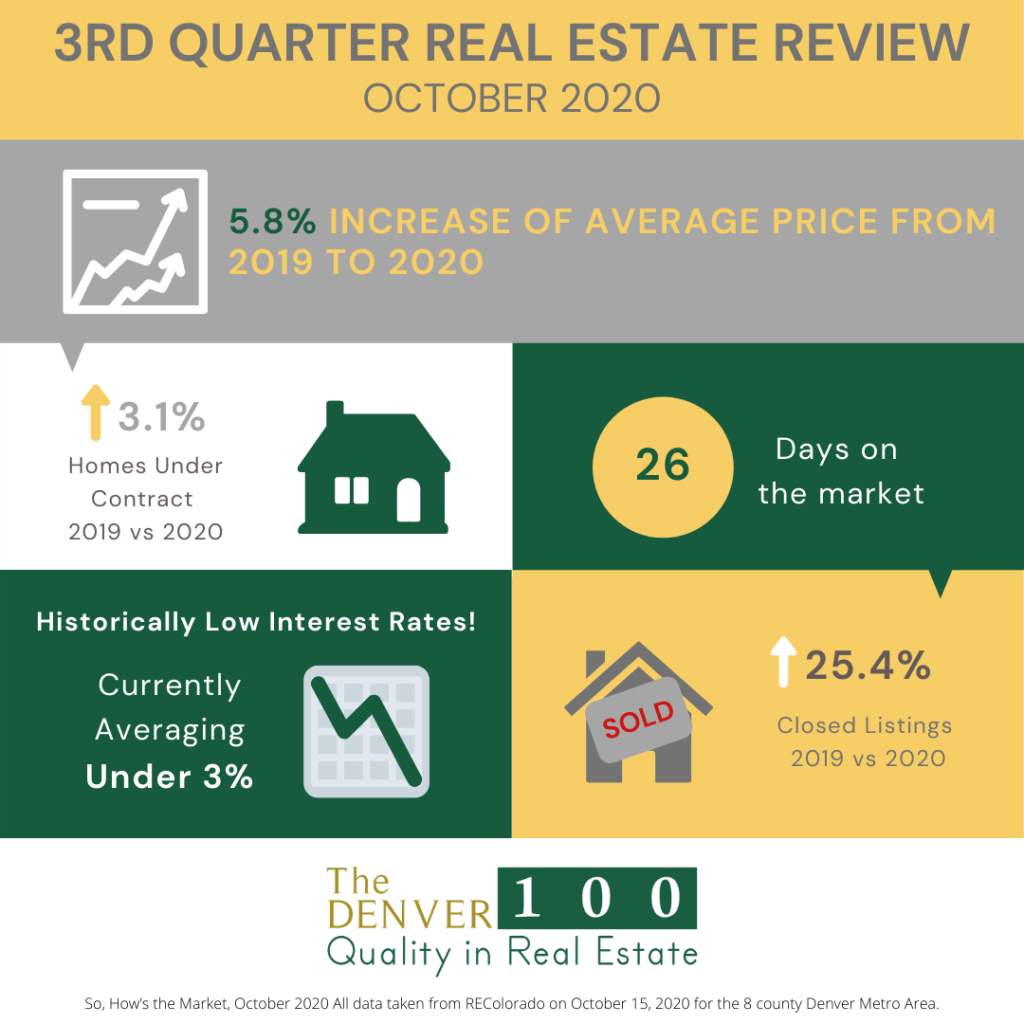 There are currently 5,058 Active Single Family and Attached Homes on the market as of today. Comparing the end of the 1st three quarters of 2019 and 2020, the total number of listings taken is 3.8% lower than last year.
At the end of the 1st three quarters of 2019, the Average Price was $479,197. At the end of the 1st three quarters of 2020, the Average Price is $507,056 – a 5.8% increase in one year. Median price went from $415,900 to $444,000, or a 6.8% increase. This indicates that buyers are willing to pay as much as needed for their desired home.
In the Luxury Market, above $1M in price is remaining consistent in units sold year over year and is experiencing a 2.4 month supply of homes based off of September Luxury Home sales and inventory. This is a continued two year successful sales trend of luxury real estate moving towards a more aggressive sellers position.
However, when you take the Luxury Market price up to $1.5M – it tells a different story for Denver. For single family homes priced above $1.5M, the month supply of homes is 4 months based off of September sold data. As you get higher in the luxury market, the month supply increases and certain zip code areas may not perform at the average rate due to more inventory and less buyers.
For single family homes priced below $1M, the month supply of homes is 15 days. A very attractive number for sellers, and still a very good time to enter the market even during the fall and winter seasons!