All data taken from ReColorado, on November 14, 2019. Denver, Colorado.Eight County Denver Metro Area Current Trends through October 2019
Has Denver's Real Estate Market Gotten Very Expensive for the Average Buyer? Yes, here's why!
Average Price of Single Family homes and Condominium homes Year over Year in October was $477,265. We are seeing the price of homes flattening as there was a meteoric rise of 50%+ increase over a 6 year period which is an unsustainable yearly increase.
Inventory for November 2019 decreased 5.9% over November 2018. This does show that Denver homeowners are not putting their homes on the market right now due to seasonality and concerned their next move maybe more than they want to spend. This is a typical decrease in inventory meaning demand for homes should remain constant through the next several months.
The number of homes closed in October 2019 was 4,582 compared to 4,256 in October 2018 or a 7.7% increase in closings. The reduction in rates in September and October brought an unusual amount of buyers into the market. If rates stay low, the buyers will continue to buy, but any uptick in rates will slow sales quickly, as the price of homes is at an all time high, buyers will be hesitant to move.
Days on the Market is 33 days which is a 13.8% increase over this time last year. However, the number of homes that went under contract in October increase 9.3% over last year at this time meaning, interest rates do affect number of buyers entering the market and their choice of homes is taking longer to choose as the buyers know they are not experiencing the same frenzy of buying as 2017 or early 2018.
The median price of a single family home in Denver has risen 5.3% year over year to $420,000. This indicates that there are no lower priced products selling or available to buyers. Suburban markets have become more attract to buyers due to the lower pricing of homes vs the prices in Denver City and County.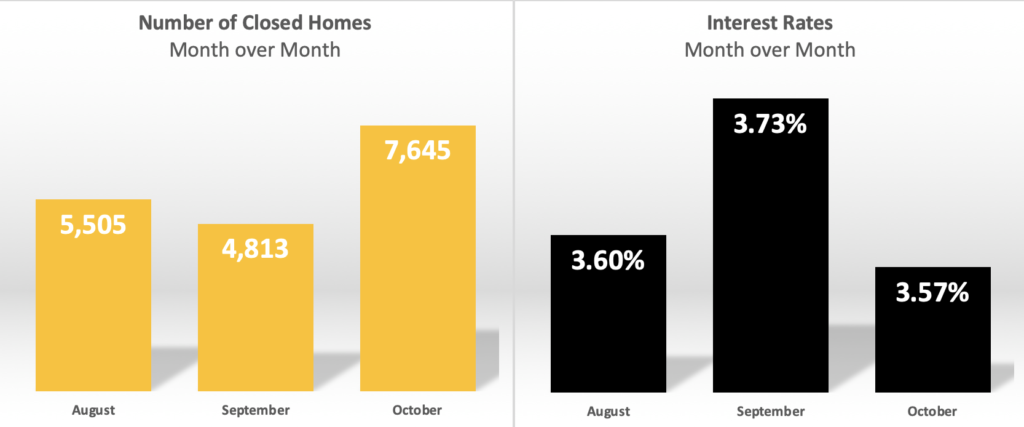 The anticipated slowdown of housing sales in the 4th quarter and first quarter of the year is seasonal, however it is also a result of: 1. Individual incomes not keeping pace with the increase in the pricing of homes over the last 5 years in Denver, 2. An inventory of higher priced homes and/or homes not meeting the condition or location demands of today's buyers and 3. Any increase in interest rates will change buyer behavior very quickly.
What Should Buyers Do in Today's Market?

Know the trends of the neighborhood you are considering. Each neighborhood has its own unique characteristics. Know the Data before buying.
How Long will you live in your Next Home? This is an important question in a market of higher priced homes. If you plan on living in the home 3 years, you want to make sure there is still an upside of value and tax savings for you.
We are approaching a market where you, as buyers, will be able to include some terms as part of your purchase. Terms far aweigh price in most cases as a financial benefit to buyers..

What Should Sellers do in Today's Market?

Be positioned as the best conditioned home. You will get top dollar this way.
As you will have less competition, now is the time to really know where to price your home. The best way to continue to attract multiple buyers is by choosing a price position below other current sales from the last 90 days.
It's November, and although the holidays are upon us, the relatively low inventory should be encouragement alone to place your home on the market now, versus waiting for after the holidays.