How Hot is Denver's Real Estate? It's Sizzling!
May 2021 inventory of single family and condo decreased 69.4% from a year ago.  Total Active listings today in the 8 county Denver metro area is re 2,628 compared to 6,840, 12 months ago.
Despite the shrinking of inventory levels, the number of closed properties has increased 41.7% from a year ago due to COVID closure in April 2020.   The MLS is reporting 5,268 closed properties for April of 2021.
The average price of a home in Denver today is $575,929 compared to $486,854 one year ago.   That's an aggressive 18.3% increase year over year!!! Due to COVID, we had little activity in March, April and May of 2020 with the shutdowns that plagued the market.  These number will look extraordinary with larger swings till we get into July stats.
The Days on the Market year over year as in April of 2021 are home are selling in 19 days vs. one year ago that number was 32 days.   Both numbers are low and have given sellers a very enjoyable selling position.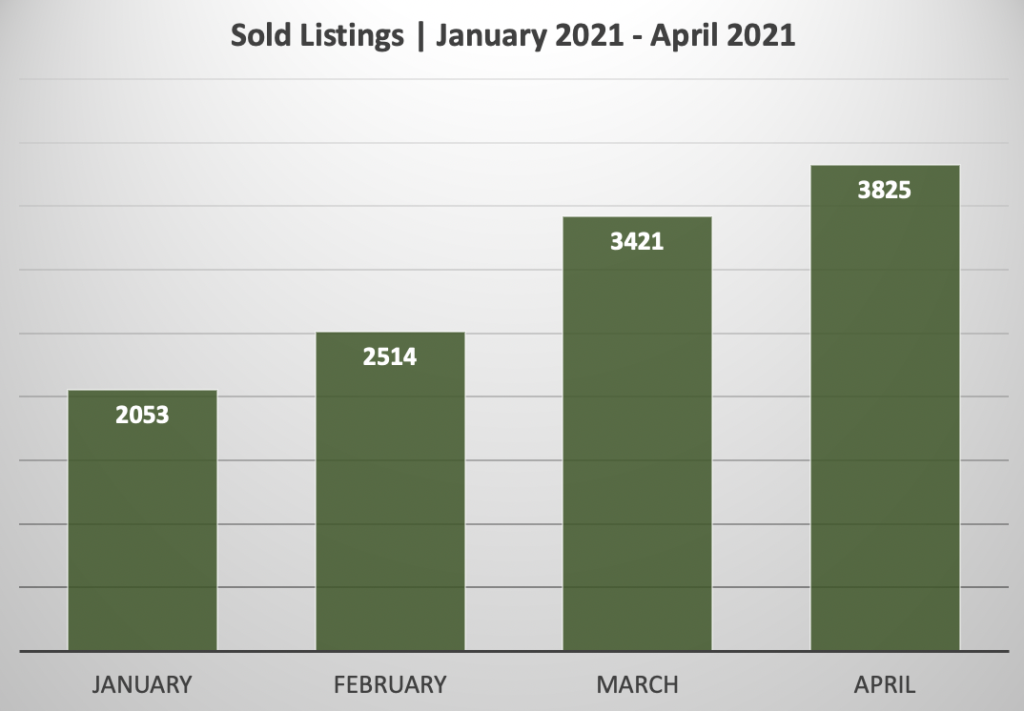 How Does 2021 Compare with 2020 through April?
The total number of sold properties in 2020 was 19,482 through April. In 2021 that number is 20,261 or a 4% increase in Sales in 2021. Does this signify a buyer behavior pattern continuing through 2021? Possibly, but watching this trend through the summer will most certainly give the prognosticators more data to predict the future. Plus watching interest rates, that due to such low rates, buyers have enjoyed a buying power through the rising prices over the last 12 months. This is a very interesting increase at being only at 4% YOY. That means in January, February and March of 2020 a very large increase in sales occurred to stay this close to 2021 numbers. The next quarter may not be quite so close to YOY sales numbers.
Average Prices continue to rise per year at record levels. Most neighborhoods have out-performed any previous averages by significant amounts. Specifically, in the lower or entry level price points there are 20 to 30% rises in price due to the lack of inventory and buyers willingness to accept properties above fair market value to get into a home. As of today, there are only 399 single family homes for sale in the entire Denver marketplace below $500,000. Buyers are getting priced out of the market, which will slow buyer behavior down but even with that, the low inventory will still get absorbed for the short term.
The number of properties placed under contract in April 2021 is 95% more than April 2020. Again, 2020 April was a COVID shut down month and those figures are not really indicative of true increases in the number of buyers entering the market.
As buyer behavior buying patterns have shown an amazing willingness to make offers above full price with very favorable terms to the seller, we continue to see new records in prices be achieved.
There is a sense in the market that we are changing the market dynamics due to slight increases in inventory. However, the market was at such low levels of inventory for the first quarter of 2021, that it will be 6 months or more of inventory growth to really start to see the market cooling off.
The unknown factor to consider when predicting where the real estate market is headed, is how will inflation of other goods effect the interest rates for housing that have hovered around 3% for a very long time? If interest rates were to have a rise of 1-2% above current levels, you could expect the affordability of today's Denver priced homes to slow down that pace very quickly.  Each neighborhood and price point are unique, so to know where your home stands within the market or what your home valuation may be in a changing financial environment, please obtain a Real Estate Review from your Denver 100 real estate broker. 
All data taken from REColorado on May 14, 2021 for the 8 county Denver Metro Area.