Low Inventory and Low Rates are the Talk of the Real Estate Market 
Average Price of both Single Family homes and Attached homes Year over Year in February has increased to $553,231, a 14% increase. This increase is unsustainable and will flatten by late summer 2021. Remember we had March, April and May of 2020 with lower activity due to the pandemic. 
Inventory as of March 15, 2021 stood at 1,680 total homes in Denver which is a decrease of 66% year over year. This low inventory number results in 13 days of inventory based upon the 3,878 sold homes in February of 2021. 
The number of homes closed in February 2021 was up 3.7% over February of 2020. Typically, the first two months are the slowest months of the year for closings, however, the Denver market has had virtually the same number of sales in 2021 at 7,015 vs 6,979 for YTD 2020. 
Days on the Market to Sell a Home remains aggressive at 24 days. 
The number of new listings entering the market for the month of February was 11% lower this year vs. last year.  A trend that will change in April and May year over year to create more listings this year than last year.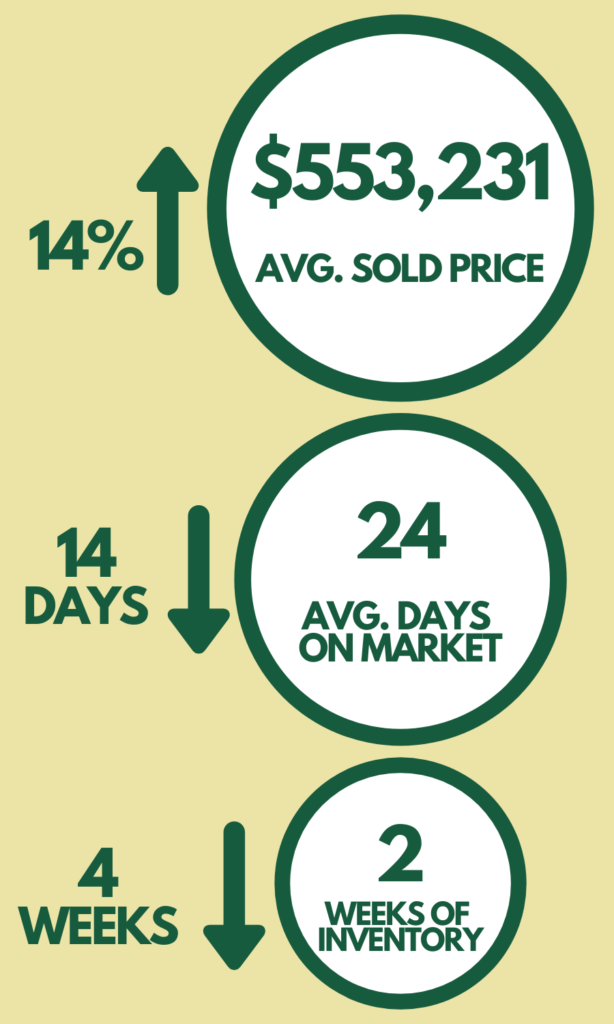 Three Factors to Watch for the next 3 Months as a Result of the Low Inventory and Low Interest Rates 
Interest rates for mortgages have remained at historic lows even with some slight increases in March. This low interest rate window will continue to spur and allow entry level buyers more buying power with such low rates. Hence, entry level priced properties will continue to rise at a greater rate than other properties.
Inventory is shrinking at alarming rates for Denver. Active listings are at all-time lows for March. This lack of inventory compounds into several factors:
a. Current Homeowners are enjoying their low interest rate payments and will not move.
b. The lower level of inventory keeps sellers off the market because they cannot find a home to move into at a price they can afford.
c. Personal Incomes/Wealth have increased in 2020 but are not close to the home appreciation pricing Denver has enjoyed for 5 years.
These three inventory points will sustain the market through the summer of 2021, as there just are not many choices for buyers to buy homes.
Employment rising in Denver is starting to affect housing. The economic impact of closures/suspensions of business for 2020 will affect short-term household incomes. This short-term income decrease will change the dynamics of the buying pool as buyers will tend to wait on the sidelines for a clearer financial future before making purchases of any product – including housing. The effects of short-term income will alter buyers' behaviors this spring for homes below $750,000, as there are only 571 single family homes available at this writing and buyers will not be able to compete with bidding wars of homes due to stagnant or reduced incomes.
 So, How's the Market, March 2021 All data taken from REColorado on March 15, 2021 for the 8 county Denver Metro Area.