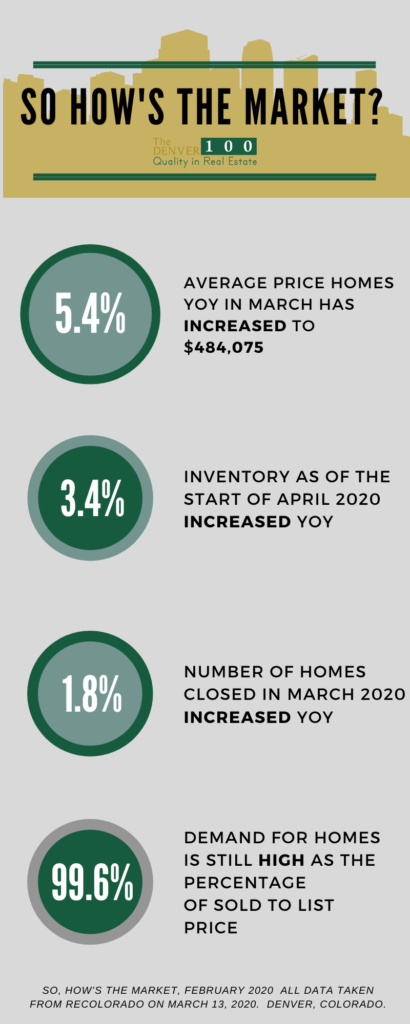 What Effect Has the Virus Had On Denver Real Estate?
Average Price of both Single Family homes and Attached homes Year over Year in March has increased to $484,075, a 5.4% increase over March of 2019
Inventory as of the start of April 2020 increased by 3.4% year over year.
The number of homes closed in March 2020 was up 1.8% over March of 2019.
Days on the Market to Sell a Home remained flat at 35 days.
The Demand for Homes is still high as the percentage of sold to list price today is 99.6%.
Five Factors to Watch for the next 2 Months as a Result of the Virus Impacting the Denver RE Market
Interest rates for conforming loans are low and the rates for jumbo loans have been more volatile. This disparity will make it attractive for prices below $600,000 to continue a sell at an aggressive pace, while prices above $600,000 to $1M will slow some. Prices above $1M will have a shrinking buyer pool for the next two months.
Inventory is Rising for two reasons.

The inability for buyers to physically see homes has created a lag in liquidating active listings at normal paces

Historically inventory would rise 8-10 percent from March to April. This year it rose 21%. Look to the individual price points to better understand the growth of entry level prices vs. luxury home prices. Even with the increase we are at a 35 day supply of homes in the 8 County Denver Metro area.
Pending Contracts predict the Future of Sales. Pending Contracts as of April 13th, 2020 reduced by 18% from March 2020 in the 8 county Denver metro area. This reduction is again a result of the Stay at Home order imposed the end of March through today's market review. This will continue to at least April 26th. Overall, there are 5796 home pending to close. Watching this number will predict closing for May and June.
Homes are Closing. In March 2020, the 8 county Denver metro area saw a total of 4645 home close. In March of 2019, 4400 homes had closed. The Denver market showed a strong resistance to continue through March.
Job Stability in the Denver marketplace has taken a severe turn in those unemployed and laid off. The Federal assistance Paycheck Protection Program has yet to be fully implemented throughout the Denver marketplace and companies are just now getting notice of their applications being approved. We believe this program will help to some degree to soften the landing, but most certainly, until business is up and running the job stability in the area will be fragile.
Why will the Denver Real Estate Market Be a Continued Good Investment Today and Beyond?
Employment has been strong in Denver for several years prior to this economic downturn that will affect every type of industry, some harder than others. However, the same principles that created growth in the Denver area for employment over the last 5 years are still in place and will rebound faster than other parts of the U.S.
There is significant equity in Denver real estate. ATTOM Data Solutions located in Irvine CA stated in March 2019, stated that "Denver was significantly higher in Equity Positions of homes with loans than the national average by 10% more homes being equity rich". That equity position has not changed in 12 months, even with the recent downturn of economic events. In other words, prices in Denver have not dropped through March 2020 and most prices in entry level price points up to $750,000 will continue to rise.
Quality of Life in Colorado has not changed. Ultimately, people gravitate towards quality of life for the long-term home ownership. This dynamic will continue to fuel the Denver housing markets for several years to come. We do see a trend to a more suburban feel as first time buyers families are starting to expand needing more space in their housing.
All data taken from REColorado on April 15, 2020 for the 8 county Denver Metro Area.