June 2021 inventory of single family and attached units is at record lows of 2,749 total homes for sale in the 8 County Denver Metro Area.
Pending contracts are a predictor of future closings – there are 7,717 homes pending to close, compared 8,670 one year ago. 
The average price of a home in Denver today is $585,128 compared to $486,865 one year ago. A 20.2% increase year over year.
The big positive statistic is the number of properties that closed in May 2021. 5,368 homes closed this year – and last year due to the pandemic, that number was 3,317.
---
 May 2020 vs May 2021 – Activity in Property Price Points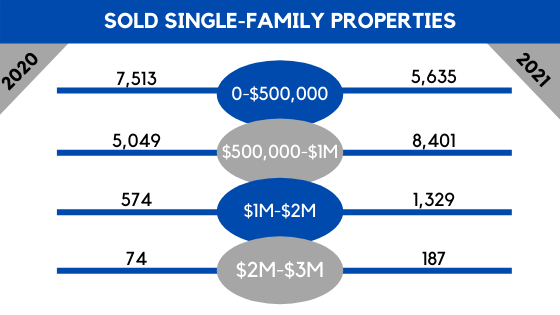 We will see inventory rise slightly each month.
Prices will begin to level off in the second half of 2021.
Why?
Buyers are starting to be more patient in their purchasing.
Pending contracts will begin to decrease.
As buyer behavior buying patterns have started to alter in May 2021 as buyers are starting to be more patient in their purchasing, we will see inventory rise very slightly each month. The steadiness of the Pending homes under contract has seen a leveling off of homes under contract. Most of this pending trend can be attributed to low interest rates, affordability of homes, and quality of life in Denver vs. the west and east coast major metropolitan areas that we see high end buyers coming from. As pending contracts start to decrease, you will see prices start to level off the second half of 2021.
If you are selling today, avoid the urge to overprice your home to the point where it becomes stale in 15 to 20 days. This risk of overpricing is the one factor sellers can not overlook in today's marketplace.
 So, How's the Market, June 2020 All data taken from REColorado on June 14th, 2021 for the 8 county Denver Metro Area.