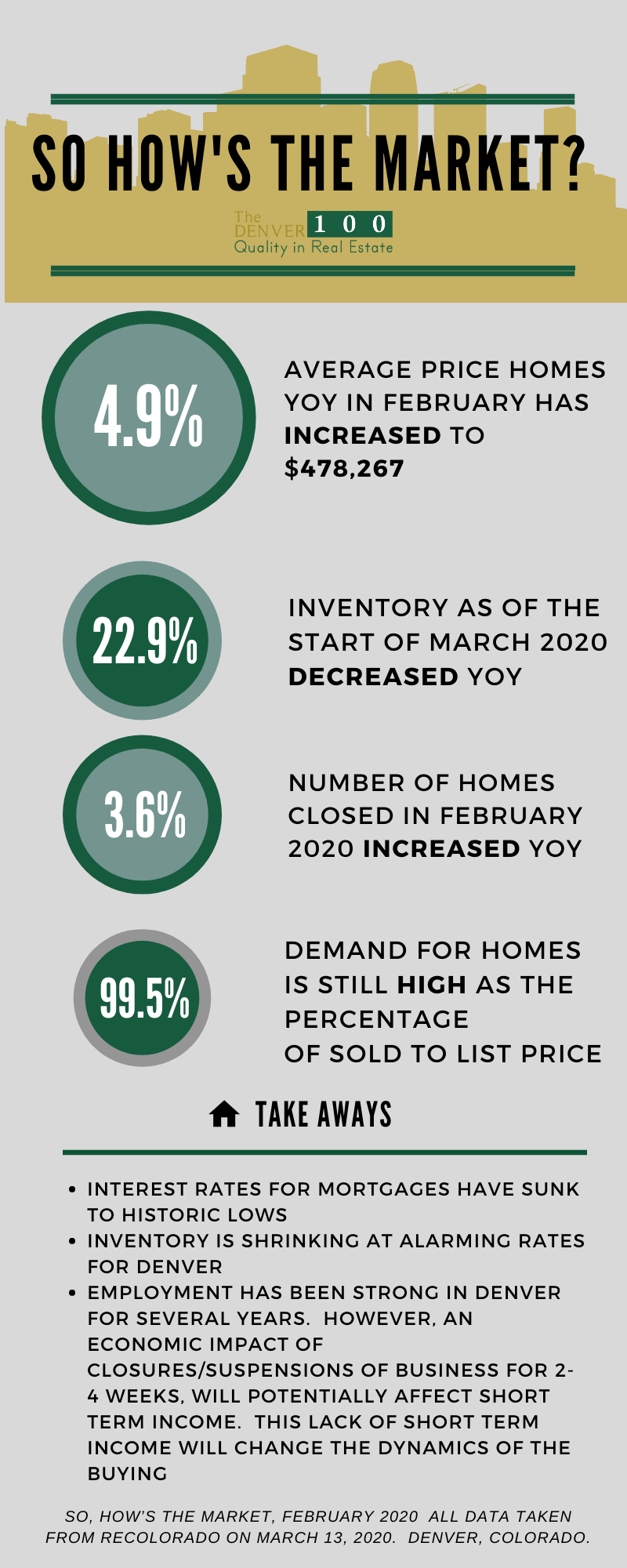 Will the Real Estate Market Change due to Virus Concerns?
Average Price of both Single Family homes and Attached homes Year over Year in February has increased to $478,267 an 4.9% increase.

Inventory as of the start of March 2020 decreased by 22.9% year over year. When supply goes down prices go……. And the market through February showed increases of prices compared to one year ago.

The number of homes closed in February 2020 was up 3.6% over February of 2019. Typically, the first two months are the slowest month of the year for closings, but YTD for 2020 the Denver market has had an increase of 6.5% increase over the first two months of 2019.

Days on the Market to Sell a Home remained flat at 37 days.

The Demand for Homes is still high as the percentage of sold to list price today is 99.5%.
Three Factors to Watch for the next 3 Months as a Result of the Virus Impacting the Denver RE Market
Interest rates for mortgages have sunk to historic lows as a result of one step the Fed took to combat the anticipated market slowdown due to the Covid19 Virus  This reduction in interest rates will spur a major refinance boom for the mortgage industry and allow entry level buyers more buying power with such low rates.   Hence, entry level priced properties should not be overly affected in the short term.
Inventory is shrinking at alarming rates for Denver. Active listing at the start of March of 2020 is 22.9% lower than 12 months earlier.
This lack of inventory compounds into several factors:
Current Homeowners are enjoying their low interest rate payments and will not move.
The lower level of inventory keeps sellers off the market because they cannot find a home to move into at a price they can afford.
Personal Incomes/Wealth have increased in 2019 but are not close to the home appreciation pricing Denver has enjoyed for 5 years.
These three inventory points will sustain the market through slower economic time, as there just are not many choices for buyers to buy homes.
Employment has been strong in Denver for several years.  However, an economic impact of closures/suspensions of business for 2-4 weeks, will potentially affect short term income.  This lack of short term income will change the dynamics of the buying public as buyers will tend to wait on the sidelines for a clearer financial future before making purchases of any product including housing. However, the biggest impact where fewer buyers will be entering the market will be on non-owner occupied housing meaning rental units, as that tenant group will most likely have the biggest economic impact in a downturn of incomes.   The lack of short term income will also affect upper priced properties, as buyers for homes above $600,000 have more choices and are likely to wait out the uncertainty.
What Will this Mean for Denver Real Estate from March to June 2020?
Well priced entry level homes will continue to be purchased by buyers, albeit a little slower pace, meaning there may not be as many bidding wars. This is an excellent time for a first-time buyer to enter the market as we have low rates and less competition for homes.
If a home has been on the market longer than 60 days, improving a price position or adding terms may be needed now to create a position for the property to be more attractive to buyers. This review should occur every 15 days based upon the sellers motivation.
Real estate is a very localized product to neighborhoods. Study the sold data from each area broken up into 3-month increments and compare the research for that neighborhood vs a competing neighborhood.  You will see some neighborhoods outperform others because the neighborhood is in higher demand and will not be affected by short term economic circumstances.  Of course, the reciprocal can happen in neighborhoods that are not as much in demand and sales tend to drop off more quickly, even in a lower inventory marketplace.  Do not let a home sit for too long in an unstable market without making some change to the marketing, pricing or condition.
All data taken from REColorado on March 13, 2020 for the 8 county Denver Metro Area.