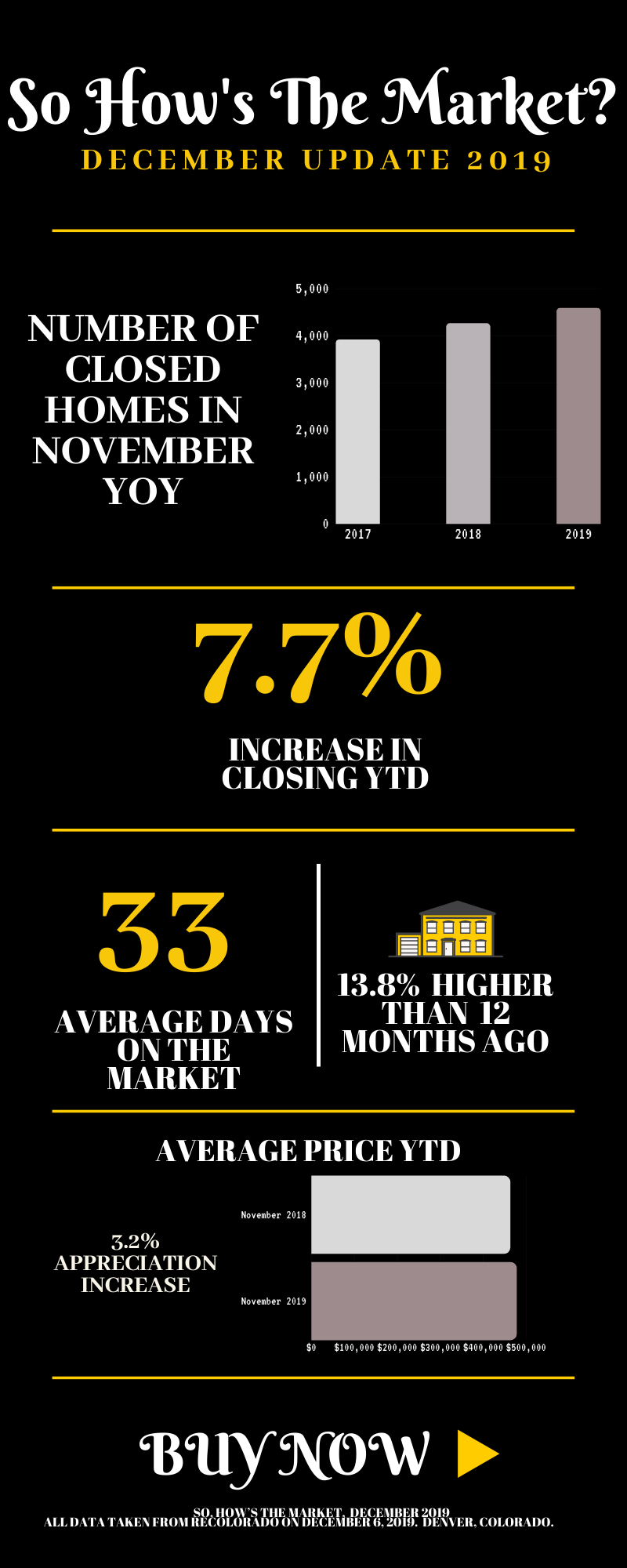 2019 Real Estate Update for December
Average Price of both Single-Family homes and Condominium Homes Year over Year in November was $477,265 vs. $462,366 in 2018, a 3.2% appreciation increase. We are starting to see prices flattening as there was a meteoric rise of prices from 2013 through 2018 which is somewhat unsustainable after the 62%+ increase in prices over the previous 6 years.

Inventory for December 2019 decreased 5.9% over December 2018. This does show that Denver homeowners are not putting their homes on the market right now. From September to December 6th, inventory decreased 28% This is a significant decrease in inventory meaning demand for homes should remain constant through the next several months as buyers will not want to miss housing opportunities and into the first quarter of 2020.

The number of homes closed in November 2018 was 4,256 compared to 4,582 in November 2019 or a 7.7% increase in closings. This signifies the buyer pool took advantage of lower interest rates that occurred in late September and October.

Days on the Market is 33 days which is 13.8% higher than 12 months ago. However, the number of homes placed under contract in November 2019 is up 9.3% over November of 2018. This means December and January closings will be a little higher than the previous year.
The anticipated slowdown of housing sales in the 4th quarter has not happened the way it typically would and the market is now outperforming 2018 numbers with a very strong finish to the year. With the colder weather in Denver in November and December, which should have slowed the pace of sales and it did not do that, coupled with the potential of no increases in mortgage interest rates for the early part of 2020, the real estate market is liable to continue with the positive results this holiday season and into 2020 outperforming the previous years data in number of units sold.
All data taken from REColorado on December 6, 2019 for the 8 county Denver Metro Area.