Highlights
The rate of home price appreciation continued to slow in December. The median closed price for Denver Metro homes increased 3% compared to last year but decreased from November. Interest rate hikes, along with rising home prices kept affordability top of mind for home shoppers.

 

The market continued to see a decline in home shopping and buying activity compared to last year as home shoppers consider affordability and wait for the right combination of price and interest rates. The number of closings was 41% lower than a year ago and there were 26% fewer listings pending sale.
The number of new listings sellers brought to the market was 33% lower than last year. Existing homeowners may be waiting to list their properties, since many have already locked in lower mortgage rates, creating minimal incentive to sell and buy again until rates are more favorable.
Homes were on the market, available for sale, a median of 26 days longer than they were last year at this time as home shoppers take their time making decisions. Additionally, there is 4 times more standing inventory to explore.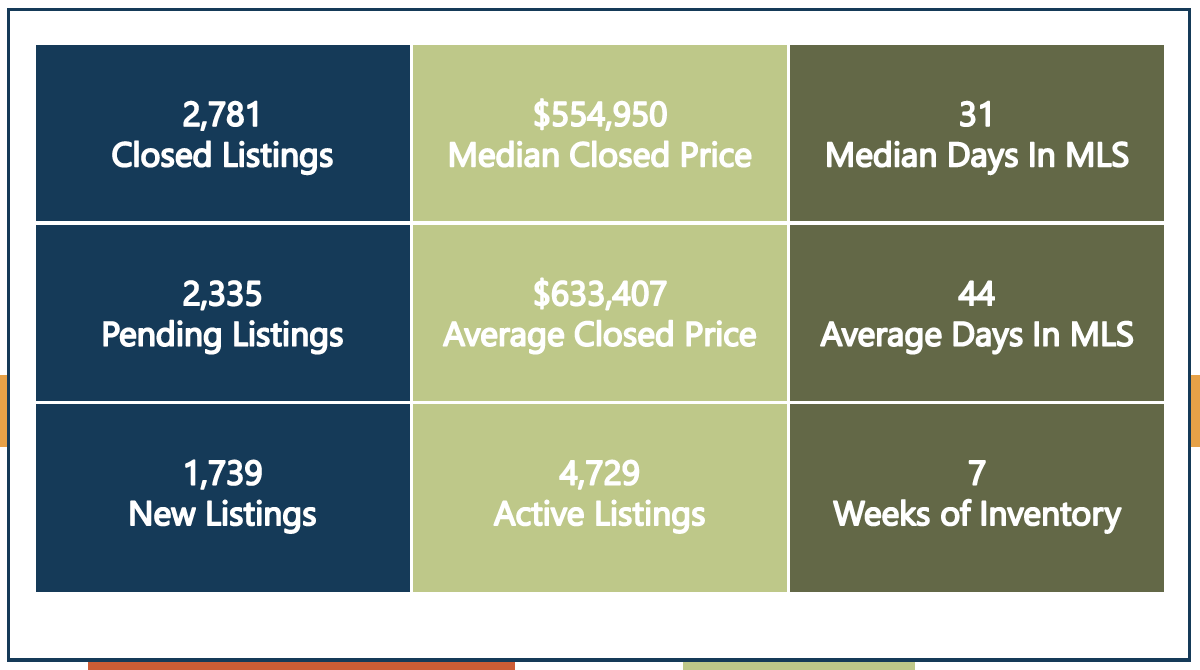 Closed Listings
Home sales continued to decline in December as buyer activity remains dampened by mortgage rates that are approximately twice what they were a year ago. The number of home closings in the Denver Metro area is 41% lower than last year and down 8% month over month.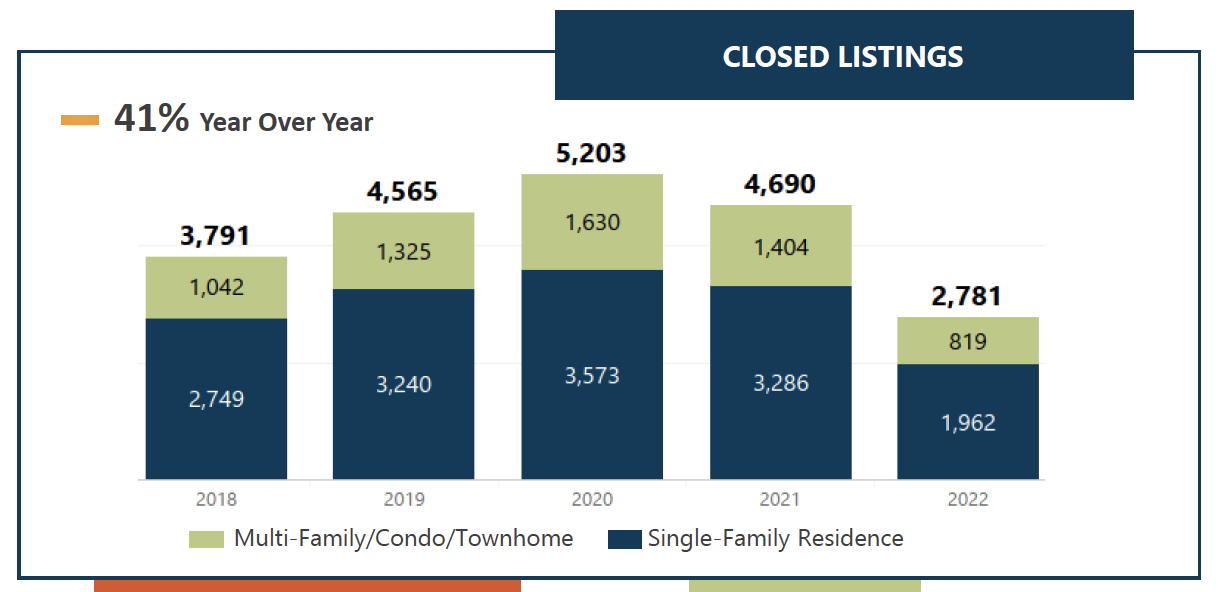 Pending Listings
The number of Pending home listings, which represent signed contracts on existing homes, dropped 26% from last year and 12% from last month, as potential home buyers contemplate with the possibility of future price and mortgage declines.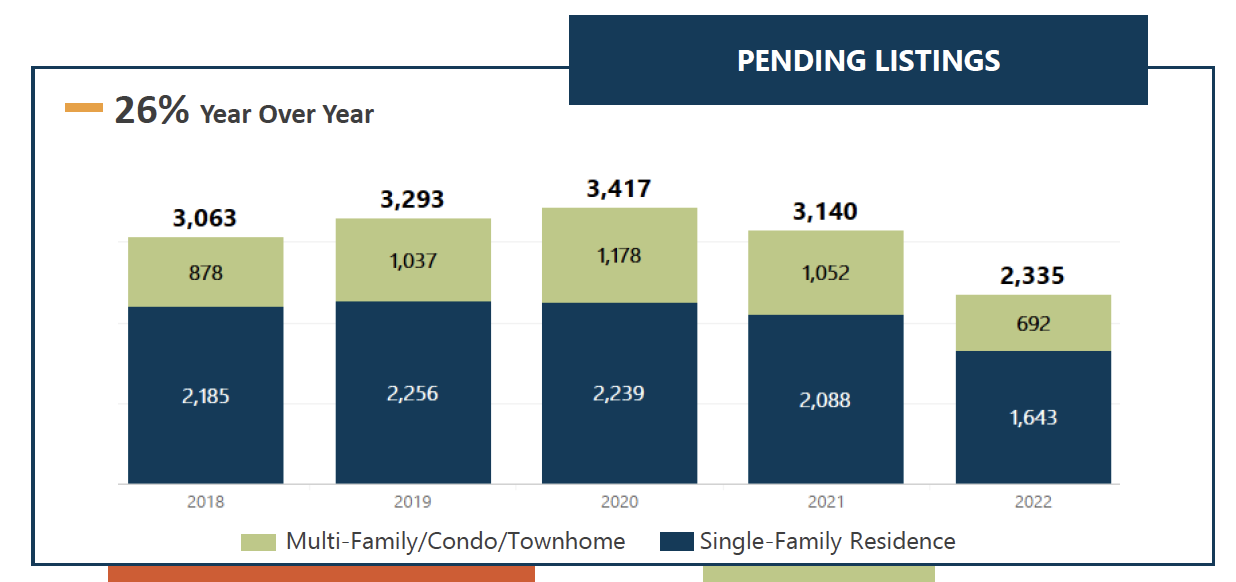 Closed Prices
Home price growth continued to decelerate in December. The median closed price for a Denver Metro area home was $554,950, 3% more than last year and 1% lower than last month.  Buyers are exercising their negotiating power, which led to closing prices that were 4.4% below the original list price.

New Listings
The share of respondents to Fannie Mae's December housing sentiment index who said now is a good time to sell a home dropped in December, while the share saying now is a bad time to sell a home increased. This sentiment is supported by Recolorado data, which shows a 30%+ drop in new listings of homes for sale compared to both last year and last month. 

Days in MLS
The metric for Days in MLS, which is the number of days it takes a listing to go from Active to Pending, shows home shoppers are taking six times longer than they did a year ago to execute a contract on a home.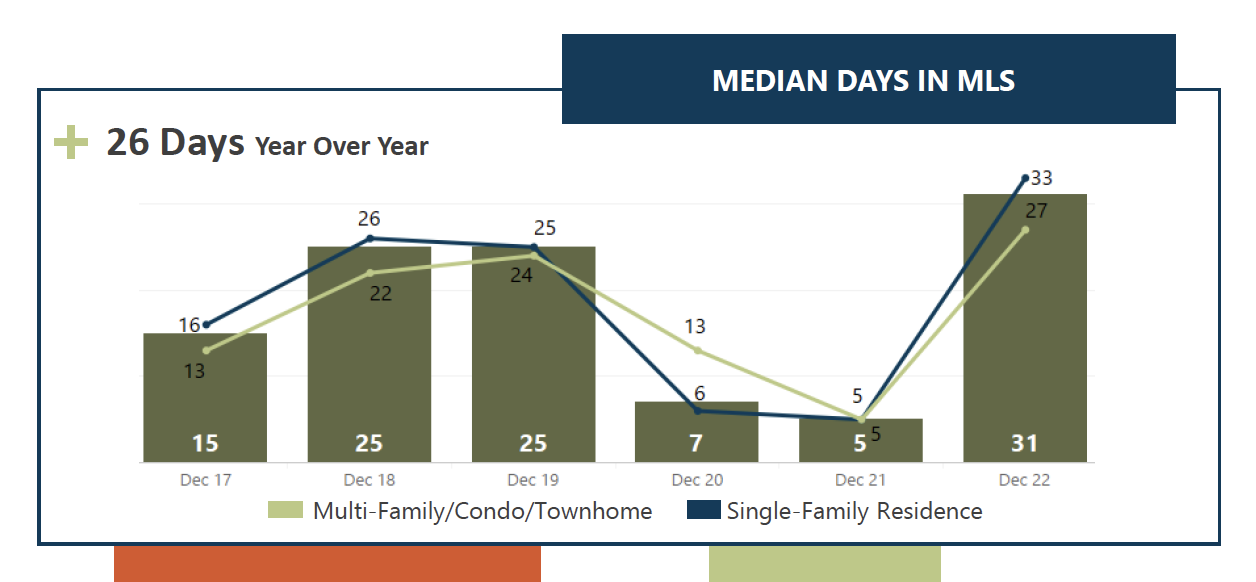 Active Listings
Standing inventory, or the number of home listings actively available for sale at the end of the month, saw a seasonal month-over-month decrease. As compared to last year, inventory levels are much higher, returning to pre-pandemic levels. 
The gross volume of sales in December totaled $1.7B, which is 40% lower than last year. Volume is lower due to the 41% decrease in the number of closings compared to last December.