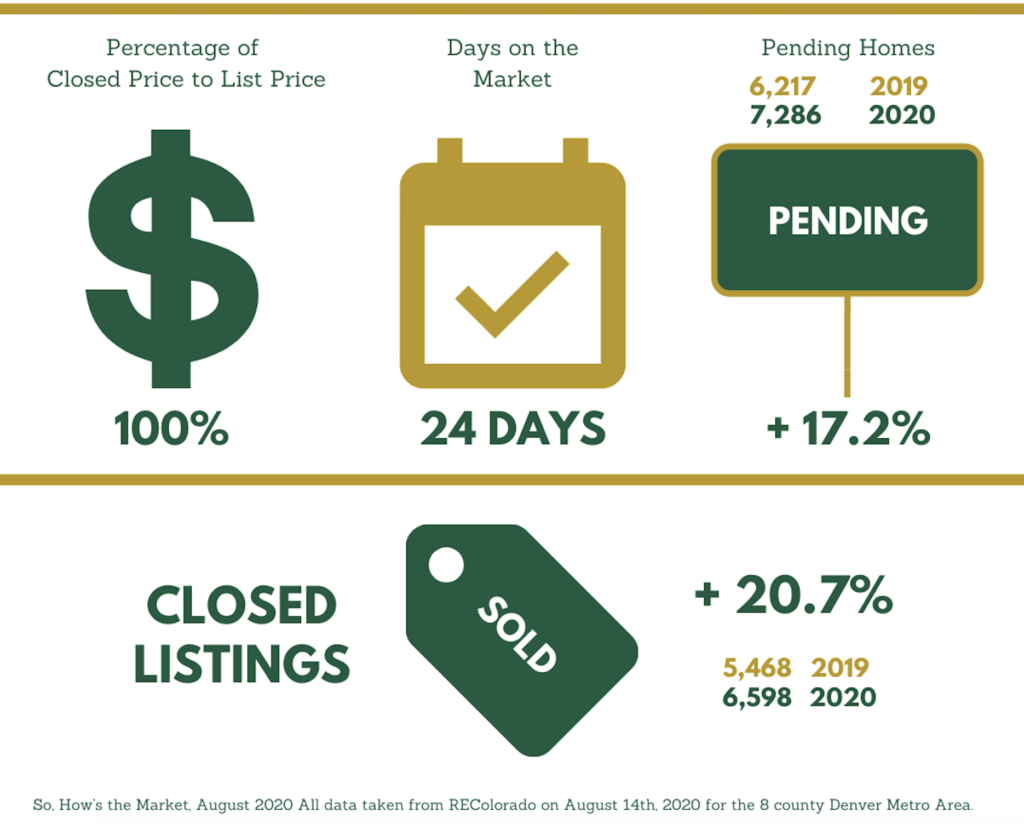 Denver Housing Market: The Good, The Bad, The Questions! 
Three Trends in Today's Market
The Denver housing market has reached record levels in pricing with an average price increase of 9.2% over last July 2019. 
The 2020 listing inventory is 36% lower this year than 12 months ago. As supply decreases, demand increases as most economists will tell you. 
Closings for July 2020 were 20.7% higher than July 2019 with 6598 properties 
Inventory Trends Drive Sales
Single Family home inventory is 36% lower than July of 2019. 
Single Family homes Days on the Market is 28 . 
Average YTD price of $499,148 for 2020 is 3.8% higher than this time in 2019. 
Interest rates at historically low numbers are driving buyers to the market as evidenced by the number of Pending contracts – up 17.2% over last July. 
The Answers!
As single family inventory rises, sales will slow down and appreciation will be 2-4% per year and some upper priced neighborhoods will start to flatten the price rises for the balance of 2020 into 2021. 
Denver will not experience a housing bubble for the balance of 2020. Corrections to some sub areas may occur even in a hot housing market. 
The prediction of increasing inventory will slow prices, but the recent reduction in interest rates will bring buyers to the market, causing prices to continue a slow growth model. 
 What Should Buyers Do in Today's Market? 
Know the numbers of sales and prices in the neighborhoods you are searching for homes. 
Become the most attractive buyer by being pre-approved for your loan. 
Study the trends of the price range you are buying within to make the best deal possible for you. 
What Should Sellers do in Today's Market? 
Improve your housing information on all Online sites as buyers are looking to Realtor.com, Zillow and Trulia. 
Make your home sparkle from the street throughout the entire home. 
Know the price trends for your home. Overpricing is a mistake in today's market. 
 So, How's the Market, August 2020 All data taken from REColorado on August 14, 2020 for the 8 county Denver Metro Area.