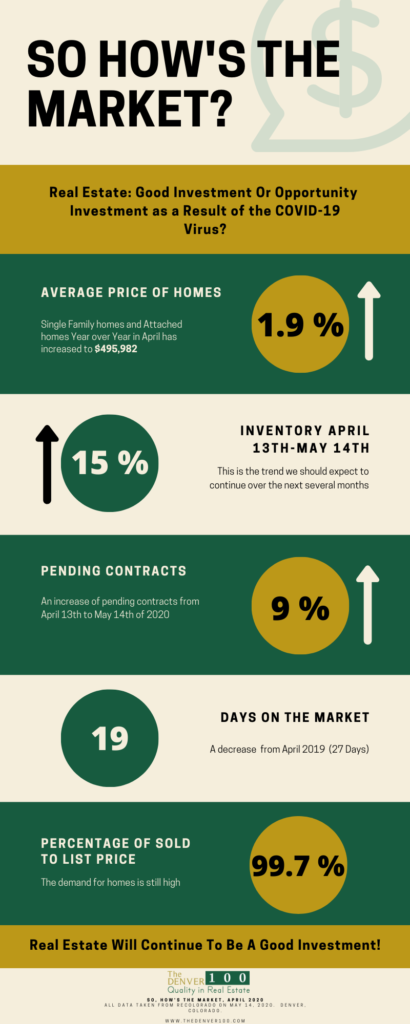 Real Estate: Good Investment Or Opportunity Investment as a Result of the COVID-19 Virus?
Average Price of both Single Family homes and Attached homes Year over Year in April has increased to $495,982, a 1.9% increase.
Inventory from April 13th 2020 to May 14th 2020 has increased by 15%. This is the trend we should expect to continue over the next several months.
Due to the shrinking buyer pool because of the Stay at Home Colorado policy, the number of closed properties has decreased at a historical rate, a decrease of 26.3% from April 2019.
Days on the Market to Sell a Home has decreased to 19 days, from 27 days in April 2019
The Demand for Homes is still high as the percentage of sold to list price today is 99.7%.
Real Estate Will Continue To Be A Good Investment!
What Should Buyers and Sellers Do to Navigate in the May 2020 Real Estate Market?
Sellers Should Consider:
1. Position your home to list prices at 1-2% below market value to be appealing to the most buyers.
2. Have your home be in the best condition on the market. Decluttering counters and closests is a must.
3. Create a "Game Plan" for how your home will be shown over the next 60 days to protect you and your home during the virus protocols.
Buyers Should Consider:
1. Be properly equipped with masks and gloves to ensure your access to see a home at anytime.
2. Be pre-approved and be able to supply to the listing broker your ability to prove your current job position is secure.
3. Do your homework on the sub-area prior to setting an appointment on a home. Consider HOA dues, validate sold data , know what inclusions and exclusions will be offered on each home.
How Can You Stay on Top of the Market Data as it Changes Drastically?
The Denver 100 Brokers have an up to the minute market data APP for you to download on your mobile device. This APP will give you current new listings hitting the market, tell you when homes go under contract and exclusively will give you current and up to the date SOLD data. Reach out to your Denver 100 Broker to have them send you the REColorado APP!
---
All data taken from REColorado on May 14th, 2020 for the 8 county Denver Metro Area.