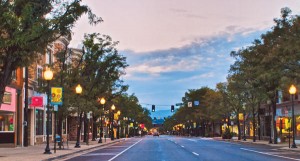 As anyone who's ever driven through Denver can attest, we have the very best Colorado real estate available. Everywhere you look there's a fantastic mixture of classic and contemporary design, not to mention gorgeous landscapes as far as the eye can see.
This is what the city of Littleton has to offer its residents, and a whole lot more. Take a look around and you'll absolutely fall in love. There's no way we can cover all the fantastic sights and sounds of Littleton, but we can at least give you some of our favorites.
Historic Downtown Littleton
This is the area that many people think of as the heart of Littleton. Its Main Street is home to several turn-of-the-century buildings that feature antique shops, speciality shops, clothing boutiques, art galleries, wonderful restaurants, and friendly bars. This is also where you'll find several of Littleton's most lively events such as the upcoming Block Party on June 13th, which features a whole lot of family fun and tasty food. Then come back for the Turkey Leg & Wine Hoedown on July 17th and 18th to enjoy live music, turkey bowling, tubing in the lazy river, and even more tasty food. And later in the year, don't forget about the Scavenger Hunt that's taking place on September 12th. Bring your best scavenging clothes and after the hunt, stick around for some fantastic live music!
Food and Entertainment Overload!
When it comes to eating and having fun, Littleton and the surrounding area almost have too much to offer. Okay, we're kidding about that — you can never have too much of that stuff! If you're a fan of the water, head down to Elitch Gardens Theme & Water Park in Denver for water slides, theme park rides, Dive-In Movies, and so much more. Another great hotspot is the Downtown Aquarium, also in Denver, which allows you to feast on delectable food while seated around a 150,000-gallon aquarium. Of course, if food is what you crave, Littleton has more than enough places to eat, including popular eateries like Texas Roadhouse, Glenn Domokos, and the Iwayama Sushi & Da Big Kahuna Bistro. Also be sure to check out Garlic Knot Express, which makes some of the best pizza in the whole state according to many residents. Or for a family restaurant, nothing quite beats the very simply-named Toast.
Sports, Sports, and More Sports
If you're the sporty type, Littleton offers more than enough to sate your outdoor appetite. First off, equestrian fans should check out either American Sport Horses or Legacy Equestrians. For those unfamiliar with the art of riding, Littleton is also home to Affordable Horseback Riding Lessons, located at C-470 and Ken Caryl. Another great way to relax is to visit the sizable Chatfield State Park, which features a full-service marina, stable concession, off-leash dog walking area, hiking, campaign, biking trails, and picnic areas. Or, if you don't mind driving a bit, we would suggest that you drive to Colorado Springs for an afternoon and check out Adventures Out West, where you can ride in custom 4×4 Jeeps, float around in a hot air balloon, tool around on a Segway, or enjoy a zipline. Living in Littleton means there's never a dull moment once you leave the house.
Are you looking for a great place to raise your children? Or are you single and wish to find a new area to live that's full of arts and entertainment? Whatever you're looking for, the city of Littleton and various other pieces of Denver real estate can provide exactly what you're searching for. Give us a call at The Denver 100 and we'll help you find that perfect new home!