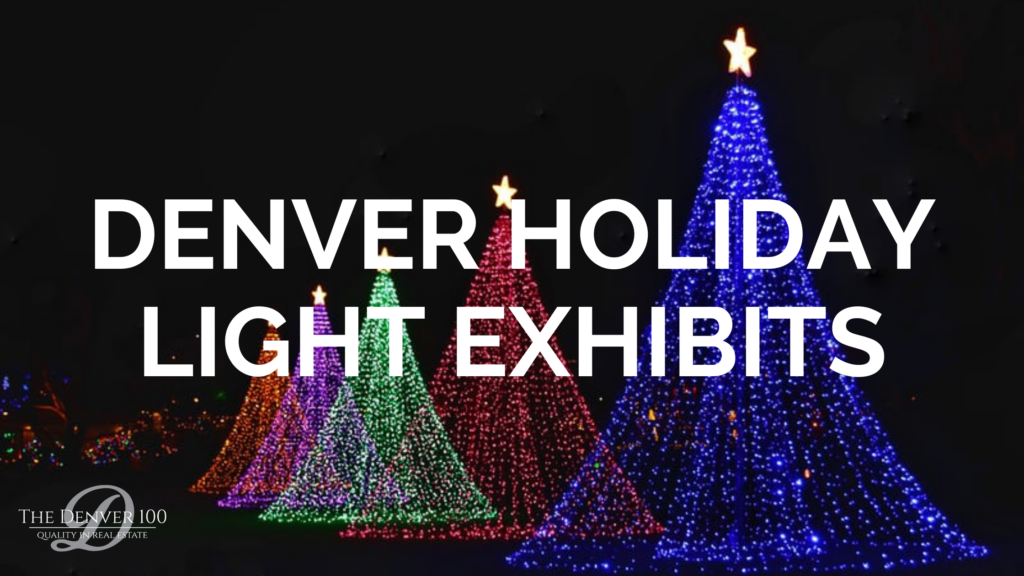 One of our favorite things about the holiday season is seeing all the beautiful lights. These lights make our vibrant city even more magical!
Take your loved ones or go by yourself, take it all in, and enjoy the romantic setup in these holiday lights exhibits.
WHEN: Nov. 22, 2021-Jan. 2, 2022
WHERE: Denver Zoo
This illuminating annual event transforms Denver Zoo into Colorado's WILDEST winter wonderland. Don't miss this year's historic celebration, with more than a million lights sparkling over 80 acres—plus a host of special measures to keep your family safe and healthy.
WHEN: Nov. 19, 2021-Jan. 1, 2022
WHERE: 16th Street Mall at Welton Street
Join in the free festivities at this festive holiday attraction, the Mile High Tree. It's a brilliantly lit, 110-foot-tall immersive art installation that provides a dazzling lights-and-music show.
WHEN: Nov. 19, 2021-Jan. 8, 2022 (closed Nov. 25 and Dec. 25, 2021)
WHERE: Denver Botanic Gardens
Witness the beauty of the Denver Botanic Gardens in a different light (pun intended). Blossoms of Light, an annual family-friendly event that has become a tradition for people across Colorado. Come interact with incredible light displays — a large field of sound-reactive, animated LED lights — plus sip warm drinks and nibble on tasty treats as you stroll. Pre-purchased timed tickets are required.
WHEN: Nov. 25, 2021-Jan. 23, 2022; 5:45 p.m. and 6:45 p.m each night.
WHERE: City & County of Denver​ Building
Each night, at 5:45 p.m. and 6:45 p.m., an interactive holiday show will occur for about 8 minutes, and then goes to a static holiday look until 10:45 p.m. The light and music shows will not play on Mondays because of City Council meetings, but the static light display will still shine. There will not be any lights on Tuesday, Dec. 21.
WHEN: Nov. 24, 2021-Jan. 2, 2022
WHERE: Elitch Gardens Theme & Water Park​
This family-friend event brings larger-than-life holiday displays and immersive experiences for all to enjoy. It features more than 3 million dazzling lights, a 65-foot-tall Christmas tree, a 25-foot-tall snowman that never melts, a 200-foot-long candy cane tunnel, giant ornaments, a wall of lights, rides on limited Elitch Gardens attractions, train rides for the kids (and the kids at heart), interactive activities like a light-up hopscotch, strolling holiday entertainers, Old Saint Nick and his elves, and more.
WHEN: Nov. 26, 2021-Jan. 2, 2022
WHERE: Denver Botanic Gardens Chatfield Farms
Stroll through the Colorado countryside along a winding path glistening with lights. Features this year include a three-sided light tunnel, illuminated antique and model tractors, a children's play area and warms holiday food and drink. Visitors must purchase a ticket online for a specific day and time.
WHEN: Dec. 4, 2021; 6 p.m.
WHERE: Throughout downtown Denver
The 9NEWS Parade of Lights is the signature event of the holiday season in downtown Denver. This free holiday spectacular throughout downtown features more than 40 units, including extravagantly illuminated floats, giant helium-filled character balloons, magnificent marching bands, traditional equestrian units and vibrant cultural displays. And of course, a special appearance by Major Waddles the Penguin and Santa! If you miss the parade, the floats will be displayed until Dec.26 on various plazas like Denver Union Station and Denver Pavilions .
WHEN: Nov. 19, 2021–Jan. 2, 2022
WHERE: Water World and Bandimere Speedway (Morrison)
Load up your friends and family into the van (or car, or truck) and experience the holiday season like never before. Drive through acres of more than 1.5 million lights perfectly synchronized to holiday music you'll hear right through your radio. You'll drive by giant candy canes, snowmen, arched pathways and more. It's like being immersed in another world. You can experience the attraction at two locations. (Closed on Thanksgiving Day and Christmas Day.)
The information was obtained from https://www.denver.org/milehighholidays/explore-the-holidays/lights-extravaganzas/