We are now moving toward a more normal market for sales of homes.  We are getting enough data together to predict that 2016 will be a little slower in sales than 2015 was.  Of course, 2015 was the highest recorded real estate sales year ever, so real estate is still a great investment in Denver.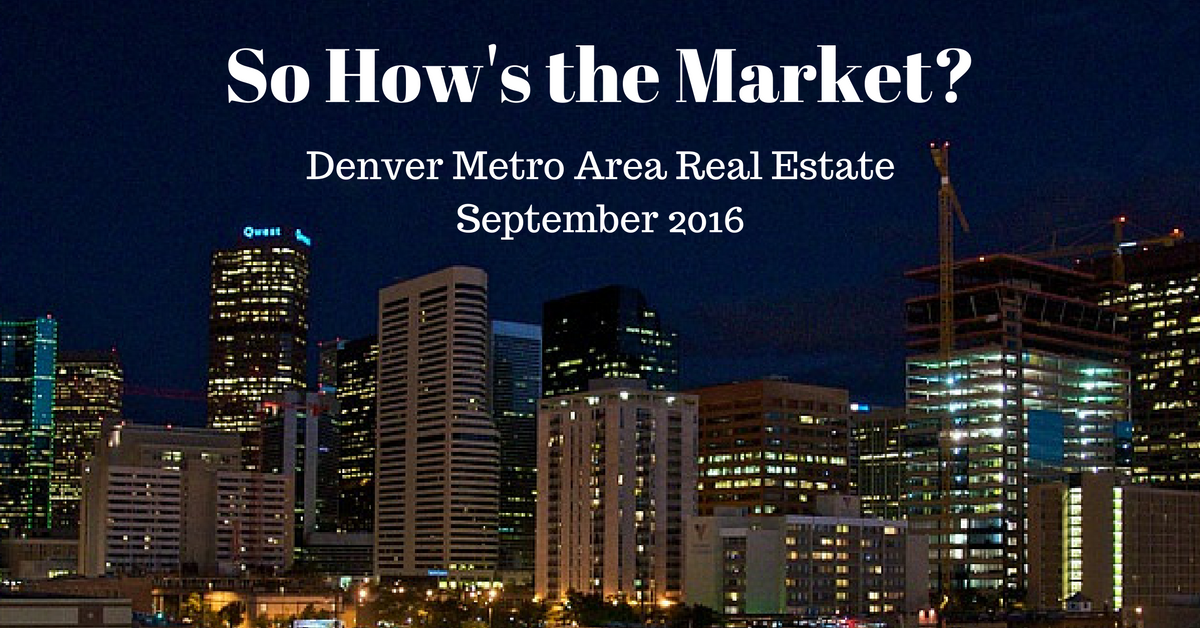 We still show, statistically, that homes priced under $500,000 in the 8 county metro area, still record only a 1.3 month's supply of homes, and a 6 months' supply would make it a balanced market!  So, still looks pretty active for the next 6-12 months.  If you are considering buying or selling, now is a very attractive time to take advantage of the low rates today.
Inventory Increasing, Sold Data Decreasing. What Does This Mean for Residential Real Estate in Denver?
Listing Inventory is 4% more today than one year ago.
The number of properties sold YTD in 2016 over 2015 has decreased 2.6%.
The average price of a single family home in August of 2016 has decreased 2% over July of 2016.
August 2016 average price over August 2015 is up 10%.
Average Days on the Market is increasing, but still very attractive historically.
The percent to list price remains at a very strong number with homes getting full price or above in the majority of sales.
What Does this Mean for Denver Real Estate?
The slowing down of the housing sold data is a result of three factors:

The Buyer Pool or wave of buyers is slowing down due to seasonality and lack of affordable inventory meaning the average sold price of a home at $408,406 has hit a level buyers are not as eager to move forward.
Buyers income has not kept pace with housing appreciation.
Lack of inventory in areas causes current homeowners to hold off from selling as they may not be able to replace their existing home with what they want.

The number of sales for 2016 will be lower than 2015 or about 56,000 single family and condo's closed for the year down from over 61,245 in 2015.
Fewer Buyers entering the buyer pool will cause prices to stabilize.
Sellers have gotten a little too aggressive on price and terms for the market, hence the inventory is starting tor rise.
Different Price Points and Different Locations react differently in the Denver market. Understanding your neighborhood with accurate supply and demand sales will give homeowners a better picture for your specific home.
What Should Sellers Be Doing to Take Advantage of the Market?
Price still dictates buyer behavior. If you want to close before the end of the year, price your home at or 1% below current market values to capture more buyers.
Make your home a move in-conditioned property. Buyers are unwilling to buy fixer uppers at top dollar.
Consider prepaying for HOA fees or other concessions for buyers to differentiate your home from others when marketing.
What Should Buyers Be Doing to Take Advantage of the Market?
Leverage your purchase with the lower rates now versus waiting even into 2017.
Investors look at the entire Denver market as one of the best to own real estate. We encourage buyers to consider buying now versus waiting for both a primary residence and/or investment property.
If time permits, do a pre-inspection before buying. This will give you enough data to make an informed offer on your purchase, that gives the seller enough information to accept a more favorable price to you, as the buyer.
Good Selling and Buying!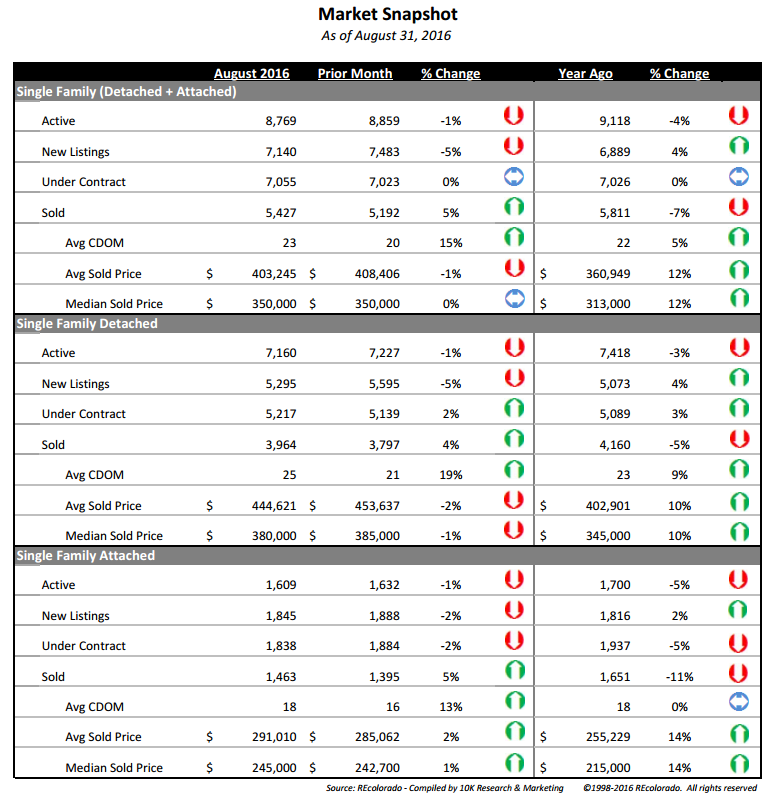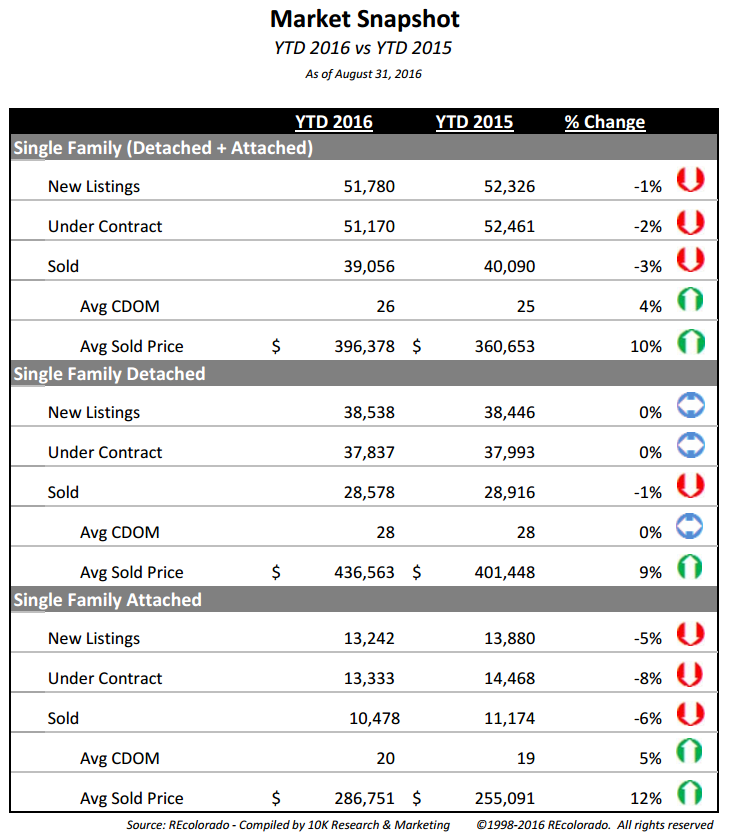 So, How's the Market, September 2016. All data taken from REColorado on September 16, 2016. Denver, Colorado.