It's an exciting time for sellers and an opportunity for buyers. Sellers moving up in the market are going to make some money on both ends, which is a unique position for any real estate market.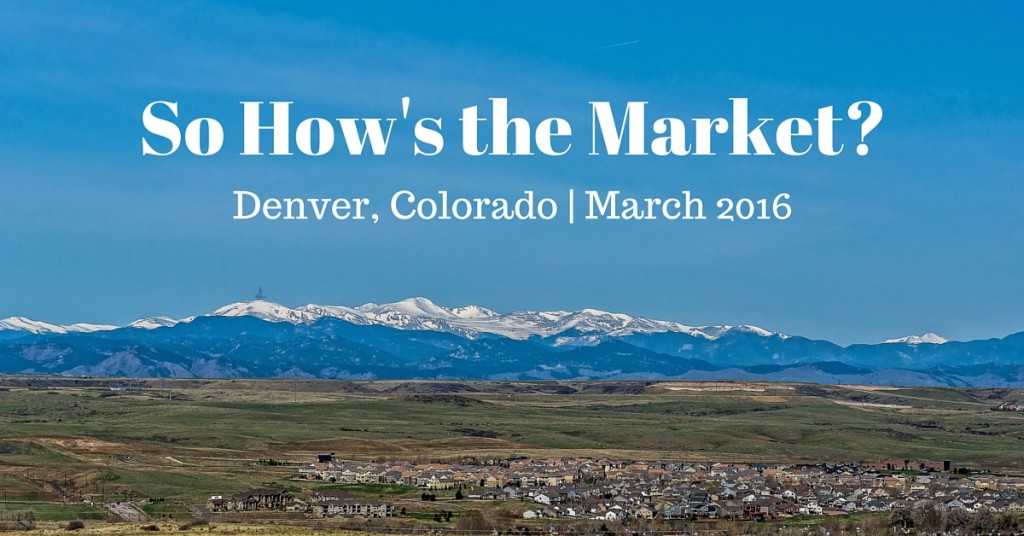 How Hot is Denver Real Estate?
Average Price of both Single Family homes and Attached homes Year over Year in February has increased to $371,996 an 8% increase.
Inventory for March 2016 decreased by 2% year over year. When supply goes down prices go……. But the market may be leveling off as the number of new listings taken for single family homes in February was 4639, up 2% from a year ago. Still a Sellers Dream Marketplace.
The Average Sold Price of a Single Family home in February remain level over January 2016 to $407,473.
Days on the Market to Sell a Home decreased by 8% from February of 2015 to 36 days on the market.
The average price of a condominium is $286,974 an increase of 16% since last February.
We are on a pace for another record year in Denver real estate
Can The Aggressive Sellers' Market Continue through 2016?
Three Factors to Watch for the balance of 2016:
Interest rates for mortgages remain at low levels. The Federal Reserve, FNMA, NAR and most economist would suggest rates will rise slightly in 2016. This will hurt the buying power a little. However, we encourage buyers to buy now, as interest rates rise, your buyer power decreases and there is no chance of prices to reduce at this time.
Inventory will continue to be a historically low levels. This problem is compounded by several factors:
a. Current Homeowners are enjoying their low interest rate payments and will not move.
b. The lack of inventory keeps sellers off the market because they cannot find a home to move to, but we have answers for this dilemma.
c. Incomes have not kept pace with home appreciation pricing some sellers out of the market for the short term.
Employment growth and stability in the overall economy bodes well for Denver housing to continue at the same pace for at least 6-10 months. Sellers will have the upper hand in the price ranges with inventory levels below 2 months of supply.
Today's market offers a very unique opportunity in that homes priced below $500,000 are rising in price rapidly, and homes in selected suburban homes priced above $1 million are not rising at the same pace or at all. The buyer in the luxury market can really get a great value by purchasing in the next 90 to 180 days. This window will close as inventory in the luxury market continues to decrease.
What Should Buyers Do in Today's Market?
Be Ready To Buy! Homes below $500,000 are moving quickly.
Know you will not have much room for negotiations during inspections. Understand the condition of your new purchase very well.
Real estate is a very localized product to neighborhoods. Study the data from the area you want to live and compare the research for that neighborhood over time to understand the trends.
What Should Sellers do in Today's Market?
Be positioned as the best conditioned home. You will get top dollar this way.
Appraisals haven't yet caught up with the buyer willingness to pay higher than list prices. Have a strong strategy to get your home appraised before taking it off the market on the highest offer.
It's March: make your home front sparkle from the street to attract the most traffic as best you can.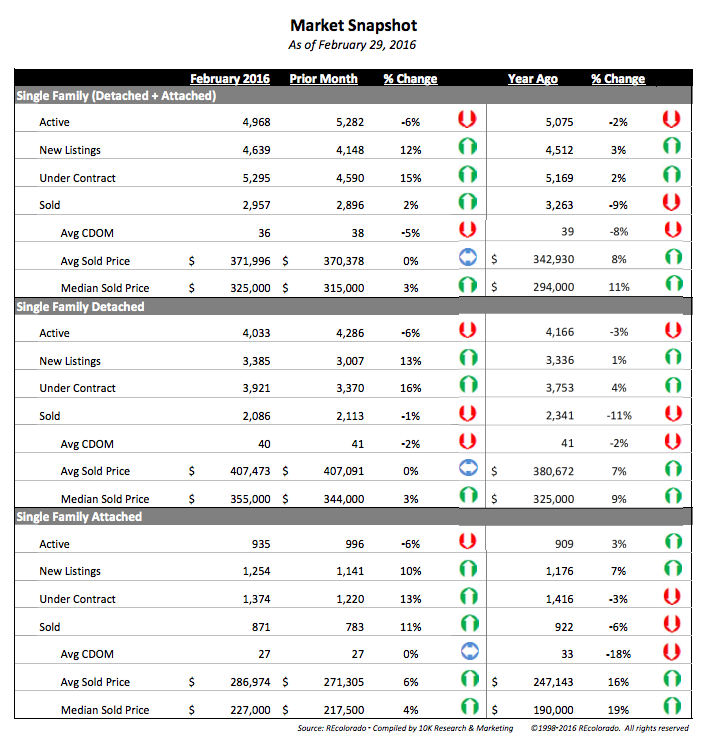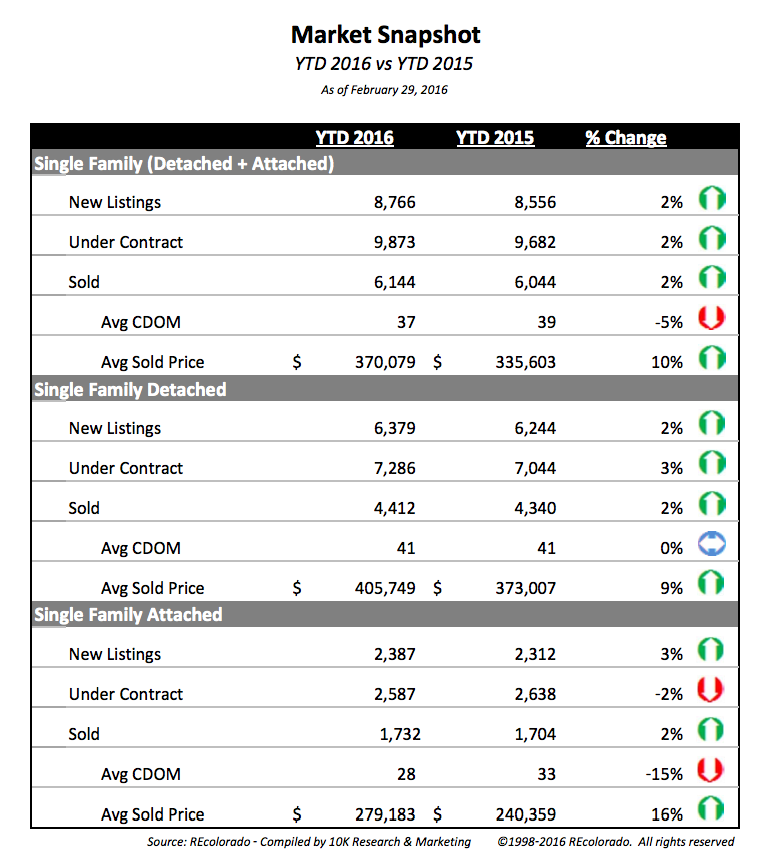 So, How's the Market, March, 2016
All data taken from REColorado on March 11, 2016 for the 8 county Denver Metro Area.