If you're selling your house, staging—the mysterious practice by which you prep and prettify your home before its debut—can make a huge difference in catching the attention of buyers and ultimately reeling in an offer.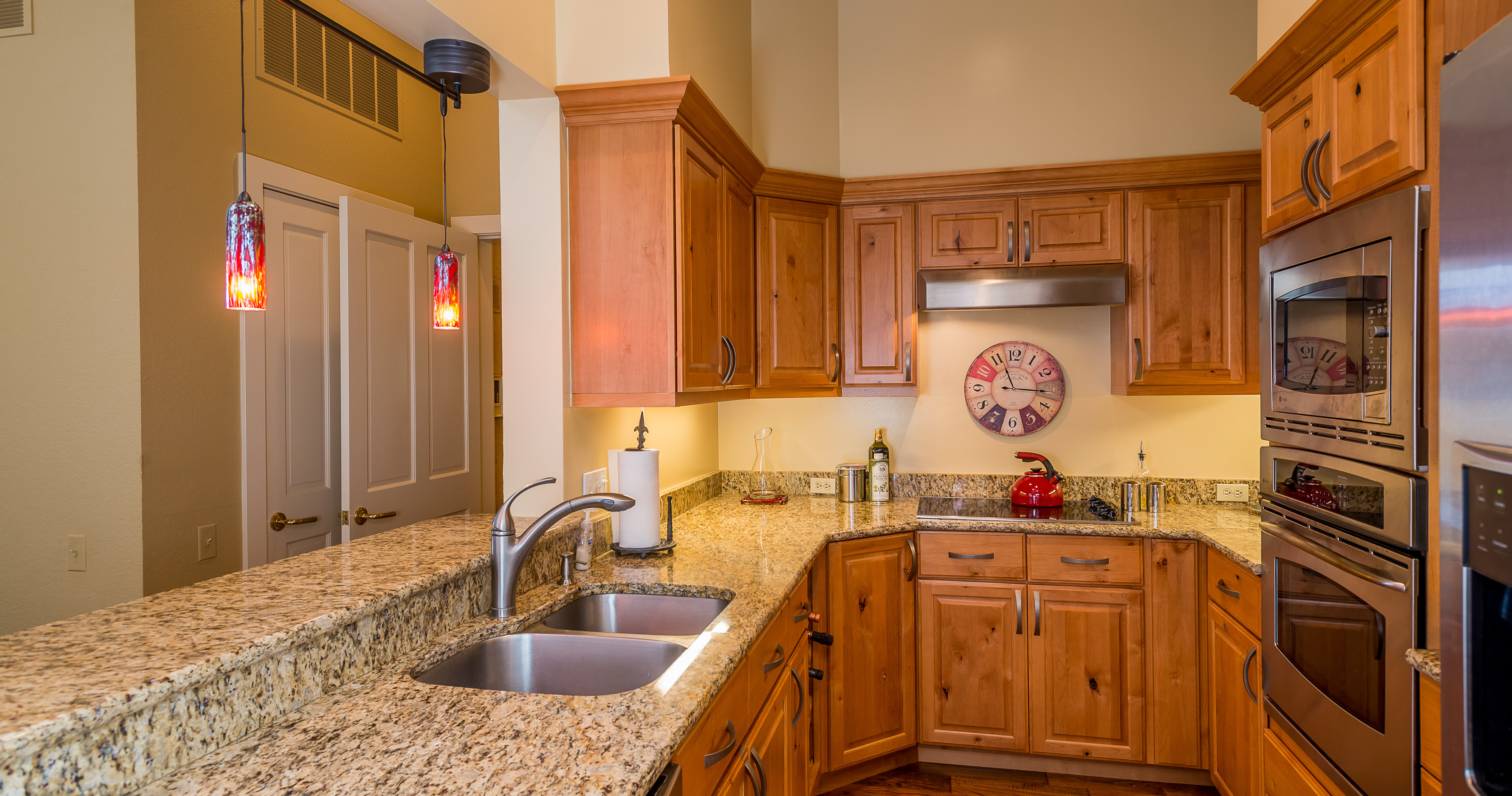 And the room you'll really want to focus on here is the kitchen: After all, it's the crown jewel that buyers ooh and ahh over—except when the counters are packed with stacks of mail, near-empty boxes of Froot Loops, and a hulking Cuisinart you rarely use.
To make sure this critical area is perfectly poised to woo buyers, try these home staging ideas for your kitchen and get some offers cooking.
Clear off counters
Put it away—put it all away. We're looking at you, coffee maker, blender, knife block, standing mixer, and toaster oven. "And don't forget the top of the refrigerator," says Amy Bell, a home staging expert at Red Chair Home Interiors in Cary, NC. Home staging in this room is all about making your kitchen look bigger, cleaner, and more streamlined. "Homeowners are so accustomed to their own clutter that it almost becomes invisible to them," she warns.
And while you're in purge mode, remove every bit of paper and those souvenir magnets from the refrigerator and cabinets. The only thing you should keep on the counter is a pop of color, such as a pretty bowl of bright green apples or lemons, says Katie McCann, an organizing coach at Maeve's Method.
Scour for hours
Well, no one's actually logging the time spent, but cleanliness is critical here, says D. Sam Halpin, a real estate broker with My Home Group in Scottsdale, AZ. "Not only must you clean the countertops, but the grout, faucet, and grimy drain rim, too," she says.
Try CLR (calcium, lime, and rust remover) on the faucet to make sure water flows through it smoothly. Clean cabinet fronts to remove dust and grime, and scrub greasy spatters on the stove and backsplash with a vinegar-water solution.
"And if you have a stovetop with burns or food rings, remove them with a soft soap product and a razor blade—it'll look almost like new," she adds.
Light it right
Let as much natural light into the space as you can, by either opening heavy drapes or replacing them with sheer panels. Have a kitchen that looks out to a patio or deck through glass doors? These must sparkle in order to illuminate the space. "And if you don't have under-cabinet lights—get them," recommends Halpin. You can purchase battery-powered puck-shaped lights for very little money and stick them under the cabinets (it adds that extra glow that every cook covets).
Jack Menashe, a designer and home stager at Menashe Design in New York City, likes minimal window treatments (like just a valance along the top) when showcasing a kitchen as natural light makes the space feel bigger. "A patterned valance invites the buyer to see the window and allows me a chance to add color," he says.
Organize the insides
Potential buyers are going to open the fridge and pantry, so don't neglect these spots when you're staging the kitchen. "People who are looking for a new home will imagine how their pots, pans, and food items might fit into your cabinets," explains McCann.
"Sometimes I stack cookbooks and display clear storage containers because these elements speak to the kitchen's function, and clear containers take up less space visually," says Menashe.
Set the scene
Some experts recommend setting the table with colorful plates and napkins to give the kitchen a homey feel.
"I may present a picture of daily life by having a unique planter on the countertop with blooming flowers alongside a carafe of orange juice for color and a rolled-up newspaper," says Menashe. Or, place a simple runner down the middle of the table for a bit of coverage and texture.
Want more kitchen staging ideas? We're discussing some on House Talk. 
Published by Jennifer Kelly Geddes on realtor.com.