Whoops! Did you spill wine and now your carpet is stained? Or, is your hardwood floor is just too cold for you bare feet in the morning? Maybe, you are just ready for something you actually like to look at? There is no denying that the flooring of a home is one of the most important features. Picking the right kind for your house, lifestyle and budget is crucial for comfort, decor and a home's value. With several different types of flooring out there, it can be hard figuring out which is perfect for certain rooms and lifestyles.
---
Carpet, hardwood and laminate are three main kinds of flooring that we are focusing on today. They all have pros, and they all have cons, but there is certainly a right type for you and we'll help you find it.
Carpet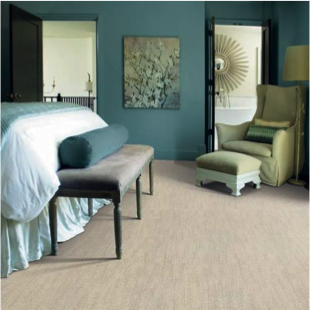 Pros:
Carpet is the most cost-effective and diverse option for flooring. From purchase price, installation fees, and the cost of maintaining, carpet demands the least amount of coin out of your pocket.
Carpet also has nearly unlimited possibilities for design, cuts, colors, and patterns that can meet any aesthetic demand.
Beyond its cost and design, carpet is also very practical. Carpet can save energy as it acts as an insulator. It also absorbs sound and is safer because it doesn't allow someone to accidentally slip.
Carpet can actually be good for health as it traps allergens and other contaminants until properly disposed of (usually vacuuming).
Cons:
 Wine and grape juice drinkers beware: carpeting is by far the easiest flooring to stain and is the most difficult to get a liquid out of.
Carpet also doesn't last as long as other types of flooring (see below) and is subject to 'matting' or crushing, where carpet eventually loses its' softness and fluff over time.
---
Hardwood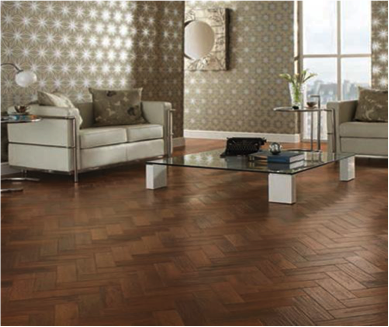 Pros:
If you are someone who cares deeply about the look and "feel" of a room, then you might want to consider hardwood floors. They have a high quality look and they add monetary value to your home; potential buyers will pay more for a home with hardwood floors.
Hardwood floors are durable and can last a lifetime when properly cared for. How much care do hardwood floors need? Another advantage, hardwood floors require minimal maintenance beyond the occasional sweeping, rare staining or use of hardwood cleaner to clean up messes.
Cons:
$$$. Cash. Money. Coin. However you say it, hardwood floors cost a lot, more than any other flooring option.
Scratching and the finishing. For as long as hardwood floors can last, they can be scratched. The easiness of scratching varies and depends on the exact type of wood. There is a "fix", you can restain, but that can take up to several hours depending on the size.
Clunk, click, clack. Hardwood floors are NOISEY. Especially if you have children, pets or just simply don't want to hear someone's every step when they walk around.
---
Laminate
Pros:
Life imitates art or art imitates life? Either way, laminate definitely imitates hardwood, but at a fraction of the cost. Like hardwood, laminate is stain resistant, and easy to maintain. Additionally, the quality, look and choices for laminate have all increased over the years.
Laminate is also easy to install compared to hardwood. It comes in reasonable planks or tiles that are designed to snap together, making it very DIY-able. There is no glue or nails to mess with.
Cons:
Laminate flooring is very susceptible to moisture damage. You likely don't want to use it in laundry rooms or basements. You can get away with laminate in bathrooms and kitchens, so long as you are diligent about immediately picking up any water or liquid that may spill onto it.
Once it's worn out, it must be replaced. You can't add finish to laminate like you can hardwood floors.
---
Okay, so which flooring is right for me?
Every room is different, every home is different and every person is, you guessed it, different. Ultimately there is no 'wrong' choice when picking flooring, so long as you are happy with it. Here is a quick rundown to find the flooring for you:
If you are going for cost-effective, warmth, comfort and coziness, carpet is the way to go.
If long lasting, home value and overall quality is the name of your game, then go ahead and spring for hardwood flooring.
Going for budget friendly, classy looking and a chance to DIY?
Then you'll be golden with laminate flooring.
This post was created by The Floor Club, a Denver Flooring Wholesaler