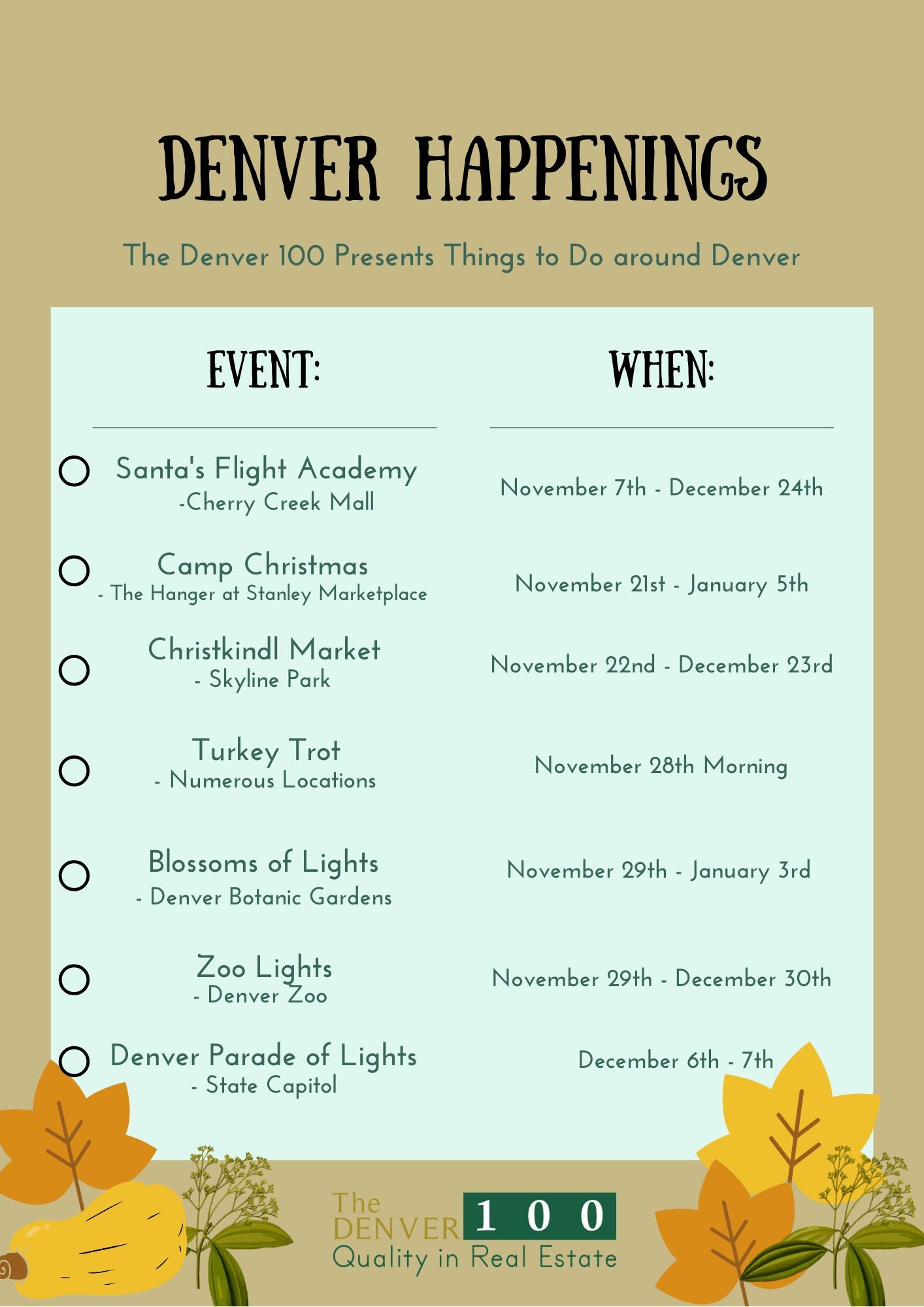 Holiday Events Are Starting
WHEN: November 7th – December 24th
WHERE: Cherry Creek Mall
Visit Santa at Santa's Flight Academy in Grand Court from November 7 – December 24, 2019.
Santa's Flight Academy is a personalized holiday adventure. Each visiting cadet receives a flight crew badge then, as an elite member of Santa's flight crew, is fitted with a virtual flight suit. From there, the cadet partners with a helpful elf to inspect and power Santa's sleigh using a series of interactive stations. The visit culminates with a snowfall dance party and a visit with Santa.

Santa's Flight Academy is free to all with a variety of optional photo packages to purchase. Each package includes a complimentary Lovepop card.
WHEN: November 21st – January 5th
WHERE: The Hangar at Stanley
An over-the-top holiday extravaganza as big as the season it celebrates

Not for the faint of festivity, this over-the-top indoor immersive installation turns the holiday spirit all the way up with mesmerizing displays of decorations that shift time and reality. Camp Christmas is Denver's newest holiday experience, where yuletide traditions of the past and present get merrily mashed together in a massive 10,000-square-foot wonderland. It's not just pretty lights and mistletoe. This is where Marie Antoinette commands a Rococo sleigh, where ancient Roman festivals become Santa-fied, and where pink is more than just a color – it's a place. Come in from the cold with your whole family and get wrapped in the ooey-gooey, odd and sweet rituals that have brought light to the darkness of winter for thousands of years.
WHEN: November 22nd – December 23rd
WHERE: Skyline Park
The Christkindl Market includes vendors from Germany and other countries, as well as local artisans, offering high-quality, handcrafted gifts such as traditional hand-carved wooden figurines, handmade candles and ornaments. Traditional German food will tempt your taste buds. Sip on warm Glühwein (hot spiced wine) as you listen to traditional Christmas carols and live German music. Entry is free and the entire family is invited to enjoy this great tradition!
WHEN: November 28th Morning
WHERE:Multiple locations around Denver
Turkey Trots have become an essential part of Thanksgiving tradition. The holiday best known for food comas, family and football now includes a morning Turkey Trot in preparation for the 5000 calories headed your way. Thanksgiving has become the largest running event of the year as participants flock (no pun intended) to events across the country.
WHEN: November 29th – January 3rd
WHERE: Denver Botanic Gardens
Denver Botanic Gardens' signature event for over three decades, Blossoms of Light, is an annual holiday lights extravaganza that transforms their York Street location into a twinkling winter wonderland. With fresh and exciting new features including a 360-degree immersive light experience, along with some fan favorites, this year's display is brighter and more expansive than ever before. Join them for this family-friendly event that has become a holiday tradition for thousands of Front Range families.
WHEN: November 29th – December 30th

WHERE: Denver Zoo
For 29 years, Zoo Lights has been transforming Denver Zoo into Colorado's wildest winter wonderland. And this year, they're Illuminated with Life—from a spectrum of luminous new experiences to all kinds of unexpected holiday fun!

With more than two million lights sparkling over 80 acres, Zoo Lights is the perfect way to make special holiday memories in Denver's most beloved community gathering place. Whether it's a family tradition, fun with friends or date night, we invite you to light it up! Like Denver Zoo and our 3,000 wonderful animal residents, Zoo Lights is yours to explore.
WHEN: December 6th – 7th
WHERE: Downtown Denver
The 9NEWS Parade of Lights continues to be the signature event in Downtown Denver during the holidays. You won't want to miss the sparkling lights, marching bands, giant balloons, dazzling floats and delightful characters as they take the streets of Downtown.

Psst… Spectator viewing for the Parade is free all along the two-mile route and grandstand tickets are available in front of the City & County Building..