If you're a décor nerd who's finally saved up the cash and the nerve to work with an interior designer, we're sure you're stoked. Finally, someone to transform all of your amateur ideas and HGTV fantasies into something tangible, professional, and beautiful.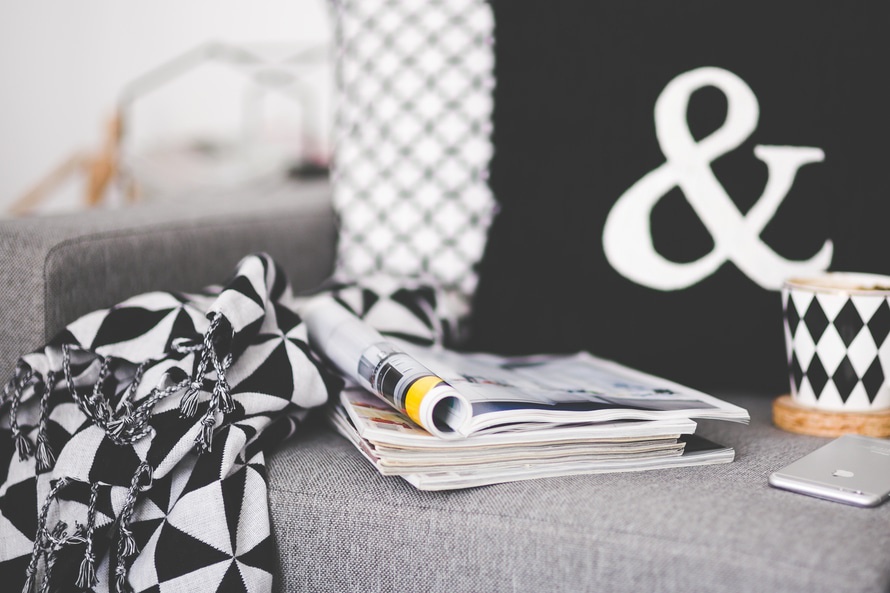 But if you don't know a Chesterfield sofa from a Chesterfield cigarette, you might be panicking about the whole endeavor (and perhaps you should be reading realtor.com® a bit more regularly). Do you harbor deep fears that interior designers will walk in, figure out you understand nothing about design, brand you unworthy, and do whatever the hell they please—or, maybe worse, take a powder?
None of that will happen, we promise. Decorators are keen to help the design-challenged, and they're happy to translate your vague, hazy (and often downright contradictory) needs and desires into something tangible. You want cozy but open? Classic but trendy? They've got you covered.
They just need a little assistance from you. Here's what top designers wish you knew—even if you know nothing about design.
1. They're not stagers
You might have used a stager while selling your home, but don't mistake one for an interior designer. A stager focuses on neutralizing your home by removing all personalized touches so prospective buyers can see themselves living there.
A designer has an entirely opposite end goal: They want to personalize your home, making each room feel and function the way you want it.
Even if you had your home professionally designed, you'll want to hire a stager when you sell. But for the most part, a stager shouldn't substitute for a designer. After all, you want your home to feel like you.
2. Trust them
You've hired a designer to make your home look gorgeous—now let her do her job.
"People usually come to me because they have a fear of what they can't visualize, and they need some help," says Heather Garrett, an interior designer in Durham, NC. "In the middle of the process, it's going to be excruciating, and it isn't going to make sense to you. You have to go into the trust zone and live there until you're done."
For most people, interior design seems like an obscure science with no rhyme or reason: What makes a couch too big? How do you know if you've chosen the right paint?
Calm yourself—your designer has a master plan. Your furniture has to be in proportion to your space, and the colors have to work with one another and with the light in your home. She's also taken your likes and dislikes into account to create the ideal design.
"People who understand we share the same goal end up with the most successful projects," says Emily Finch, a designer in the San Francisco Bay Area.
3. They need to get inside your head
Even the best designers can't give you what you want if you don't give them what they want: an idea of your taste. And you know what that means. Sorry, haters: You'll probably have to start pinning.
"Providing inspiration is very key," Finch says. "I used to let it go if someone didn't record their inspirations somewhere like Pinterest, but now I mandate it."
Don't feel like you need to perfectly represent your dream room in one idea book. Discussing what you like and don't like about each image you've selected will help the designer distill the broad ideas in your head to something tangible and stunning.
"I want to know exactly what it is about that picture that you love. Maybe it's just the style of the arm on the sofa," Garrett says. "I want to get really specific so I can download and get in their brain about how they're imagining their dream home."
4. You need a cushioned budget
Exactly how much you need to allocate will depend on whether you're doing a full house, top-to-bottom redesign or if you're bringing in an expert just to spruce up a few rooms. Garrett—who does only full-service, flat-rate design—suggests you should save 10% of the overall purchase cost of the home for a full redesign.
Costs for redesigning your current home can vary dramatically based on your location, the size of your project, and your designer, but you can expect to pay either an hourly rate—these usually start at about $35—or a per-project fee that begins at about $500. Both of these costs can head dramatically north depending on the skill of your designer and the scope of her work.
Wondering whether you need an interior decorator or a designer? Unless you're building a project from the ground up (which generally requires a designated designer), there's no major difference between an interior decorator and a designer. An interior designer—which generally requires a license—knows more about structural issues and building codes, but when it comes to simply designing a room, a decorator is just as qualified.
5. Don't get attached to your stuff
So you love your comfy recliner. That's great—it can help a designer determine your style and provides an excellent building block for the rest of the renovation. But don't get too attached to it. That late '90s La-Z-Boy might not  work with what your designer (or maybe any designer) has in mind.
You also should consult your professional before purchasing new furniture.
"That same overstuffed sectional that looks normal in a Pottery Barn showroom is likely to be much bigger than you imagined when you get it into your home," Garrett says. "Hold off on the furniture shopping until you get help or measure."
6. Don't judge a project halfway through
In the middle of a renovation, your home is almost guaranteed to look terrible.
"As a designer, that's when you get middle-of-the-night emails and weird phone calls saying, 'The sofa came today, and I don't know, it feels so big,'" Garrett says. "Well, that's because the chandelier isn't hung yet!"
Or one day, you'll come home and something important changed—the wall color, the furniture, the floor. Big changes can be shocking, but try not to judge the project until all the pieces are in play.
"It takes your eyes a bit to adjust," Finch says.
If you've patiently waited for the finish line and still have issues with the design, don't be scared to bring them up with the designer, who can offer reasonable solutions and make you feel more comfortable.
7. All decision-makers need to be present
Both Garrett and Finch complained about the absentee partner problem—often a time-stressed spouse spending megahours in the office who claims to have no real interest in the design.
Until the design starts becoming reality, that is.
Garrett says: "This is a classic scenario. A woman inquires, comes to meetings, and believes 'My husband said he is totally fine with whatever, he just wants me to do it.' She takes all this stuff home and he looks at it. Then he says:  'I hate it, it looks like [crap], we're not doing that.'"
Now, Garrett requires all decision-makers to be present at the meetings. Finch encourages the same.
8. Learn to spot a bad designer
Sure, the biggest indicator of a bad interior designer is first and foremost a lousy aesthetic, but there are other factors that could make this a rocky relationship.
Even if you love their portfolio, you need to bond with them enough to have clear and regular communications. Design is a give-and-take, combining your designers' expertise with your own particular tastes and desires.
If your designer rampages through your home, ignoring what you want in favor of her own style, you've got a bad fit. Even if you know nothing about design and want to hand over the reins entirely, your designer should still take into account your needs.
Look for designers who ask questions—How do you use this room? What do you want to feel in this room?—and who run choices by you before solidifying them. Your place will be Pinterest-worthy before you know it.
Published by Jamie Wiebe on realtor.com.