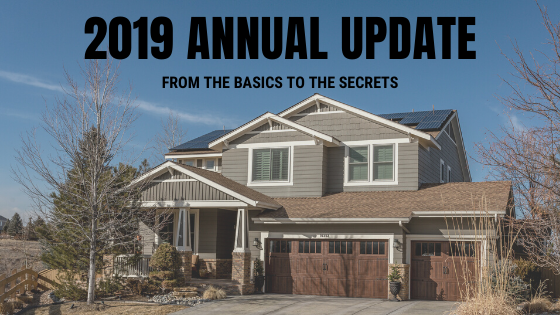 Denver Metro Area Single Family Housing
• 58,704 single family and condominiums sold in 2019 compared to 56,065 that sold in 2018 or a 4.71% increase in the number of homes closed.
• At Year End 2019 there were 6,582 active homes for sale compared to the end of 2018 which had 6540 homes an increase of 42 homes in inventory over last year this time. This increase should does suggest the Denver real estate market is still performing at a high level compared to earlier years in the decades and many other US markets. The reason is the inventory was so low attributes to the market prices holding steady.
• The average price of a home in the Denver Metro Area ending 2019 is $486,614 compared to $471,331 ending 2018 year, which is an 3.2% increase in price for the mix of properties sold. By comparison, 2010 had a single family average price in Denver of $258,597.
• The average days on the market for 2019 is 31 compared to 26 one year ago.
• The selling price obtained compared to List price is 99.2%. What this means is that buyers were willing to pay close to full price or more to buy a home in 2019, but this figure most certainly lowered as the year went by and most of that gain was early in 2019.
• The absorption rate for single family homes in the Denver Metro Area with 2019 year-end inventories is 1.35 months. As the inventory increases so does the absorption rate. This inventory month supply will rise during the spring and summer seasons.
• The $250,000 to $500,000 price range had the most detached home sales with 23,147 homes closed in 2019 creating an absorption rate of 26 days of inventory. Below 6 months of inventory typically indicates prices will continue to increase.
• Conversely the $1 million and above price range had a total of 1998 homes closed in 2019, creating a current absorption rate of 4.58 months of supply. This is a decrease of 15% in supply from 12 months ago, and moving in the direction to have luxury property owners re-enter their homes to the market causing a greater inventory in 2020.
Do You Wish You Would Have Bought More Real Estate in 2010? Don't wish the same thing in the year 2030!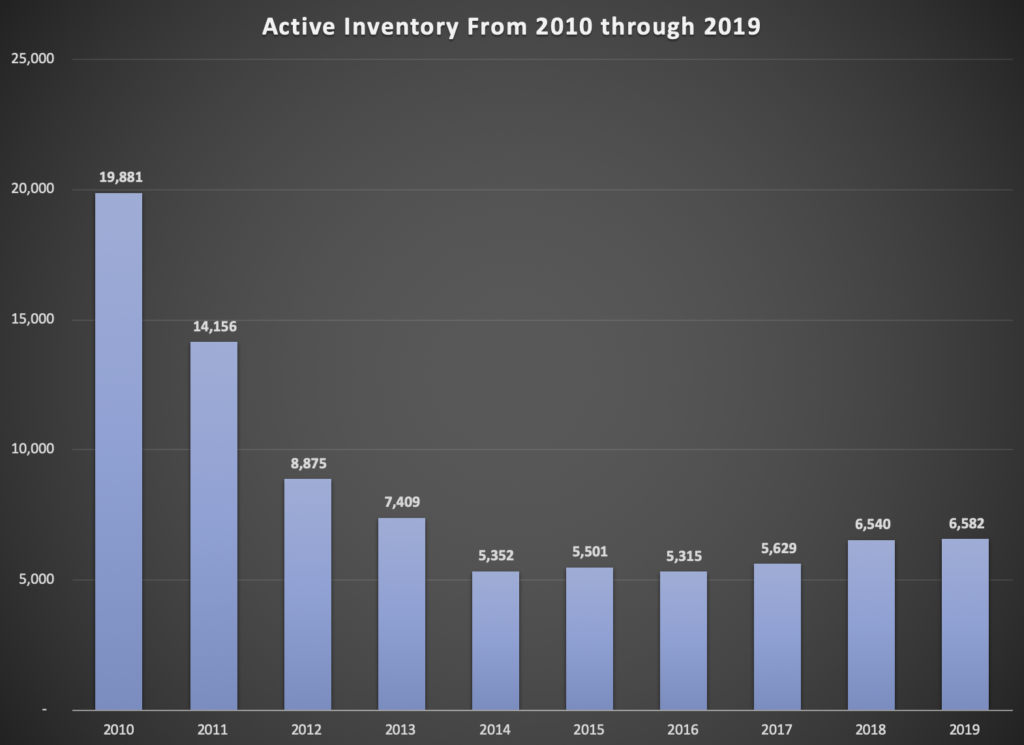 In the last decade inventory has decreased 202%. This has created the Denver real estate market to be one of the most outperforming markets compared to national marketplaces.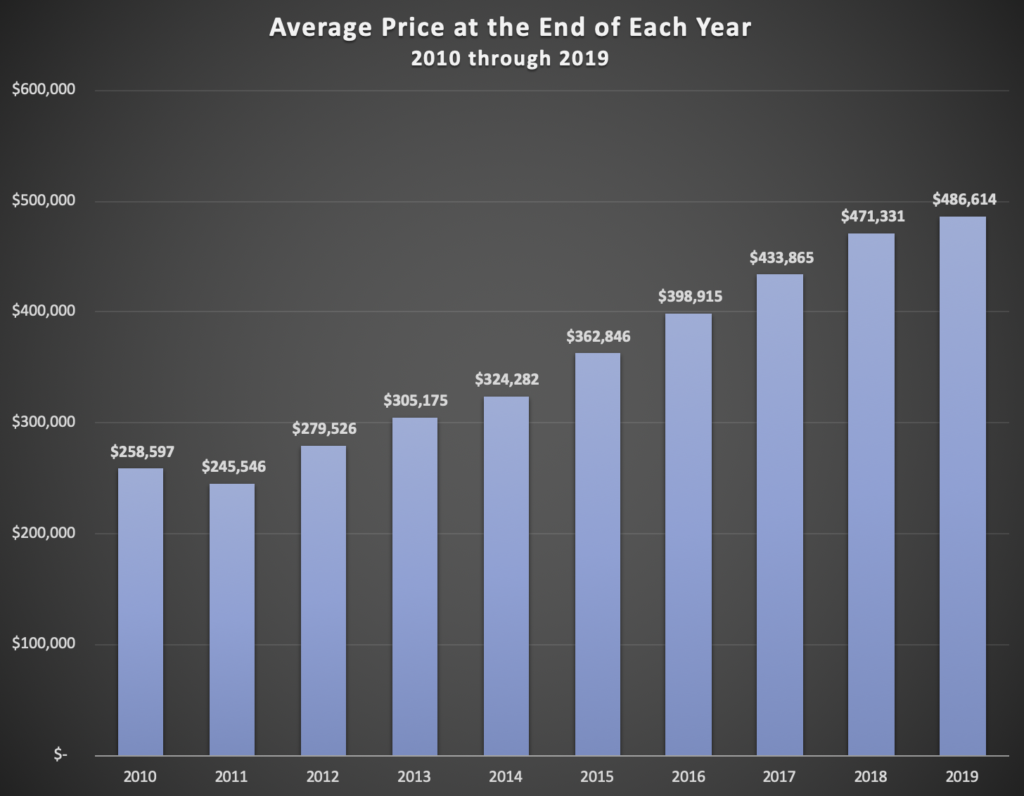 An 88.1% rise in the average price of all properties in Denver for the last decade makes homeowners very happy with their newfound equity position. This wealth growth in housing for Denver is unprecedented and cannot be sustained due to the average buyers income has not kept pace with the pricing of property for the 8 county Denver metro area.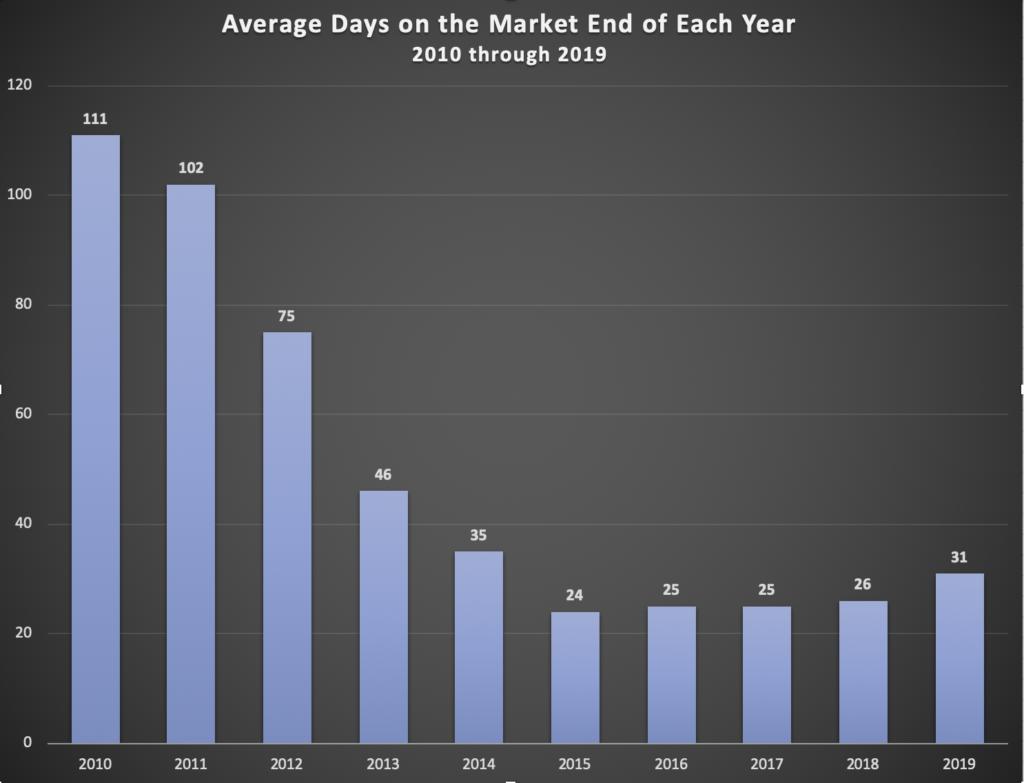 Average Days on the Market is the result of having more buyers buying today than 10 years ago. You can see the trend is just starting to increase and we would suggest the average time on the market will increase to 60 days on the market prior to contracting. The primary reason for this increase, which would make a more normal marketing period, is there will be fewer buyers entering the market over the next year willing to pay the prices Denver real estate is currently demanding. A longer marketing period does not suggest prices will drop significantly as you can see in the chart titled "Percentage of sold price to list price" only fluctuated 2-3% over the entire decade.
Interested in learning what will happen in 2020?
Contact your Denver 100 Agent today to learn more about 2020 Real Estate!
*All data taken from REColorado on January 15th, 2020 for the 8 county Denver Metro Area.